Work-Life Balance
In this workshop you will learn how to manage your time, plan and create a work-life balance. A workshop that will help you succeed!
When and where
Location
Marketplace STHLM i Högdalen Centrum 13 Högdalsgången 124 54 Enskede-Årsta-Vantör Sweden
About this event
Manage you time effectively and find a work-life balance!
"A plan is what, a schedule is when. It takes both a plan and a schedule to get things done." - Peter Turla
While investing time in your business is crucial to succeed, a work-life balance is needed to succeed in your personal life and live with inner comfort. Creating a balance between your personal life and work is necessary to avoid negative interference between the two parts of your life, as the feelings and emotions of one part can negatively interfere with the other part and vice versa.
In this workshop, you will learn how to manage your time in your business with techniques, goals, planning and relaxation. All of which will not only lead you to a successful business, but also a successful personal life.
Topics covered:
Learn how to manage your time
Create a balance between your personal life and work
Learn how to plan and divide your time
Marketplace have teamed up with Johanna Nordberg. Johanna is an inspirational speaker and founder. Her mission is to help as many women in the world thrive in their business and personal life, paving the way for women to succeed.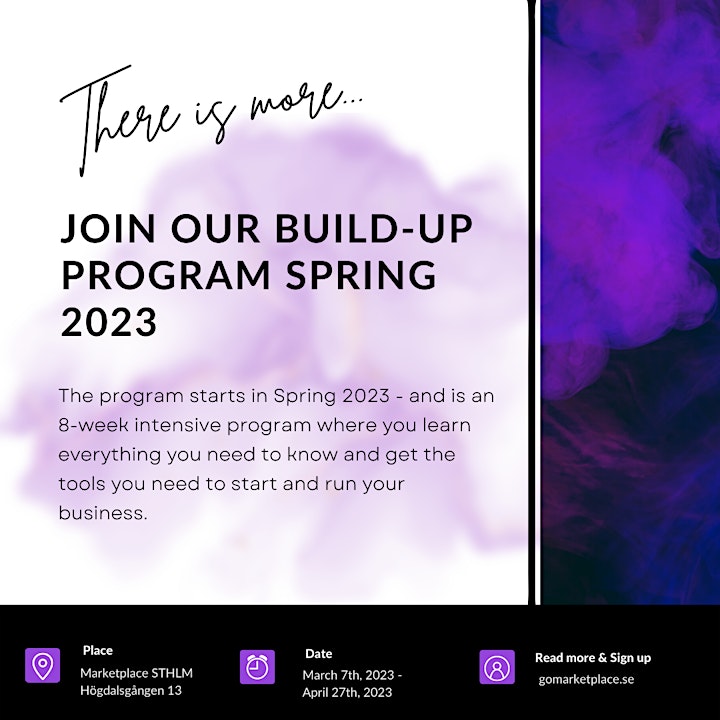 Want to learn more? Yes, you can!
This course is a part of our 8 weeks entrepreneurship program, called the Build up program. The program is designed for entrepreneurs who are ready to take their business to the next level. It covers all aspects of accelerating business.
From building a team to consulting to explore funding opportunities - either through our partners or other options. The goal is to help new entrepreneurs structure their ideas, do the right industry research, understand their market and build a winning business plan - this with the help of our strong mentors, theory studies and during the program's meetings you get to take part in individual business development, expert help, lectures and co-working .
You will have a complete pitch package to use for investors, banks and with our partners when you have completed the program.
The program runs for 8 weeks between 7/3 – 27/4 with 3-4 hour meetings per week on Tuesdays and Thursday afternoons.