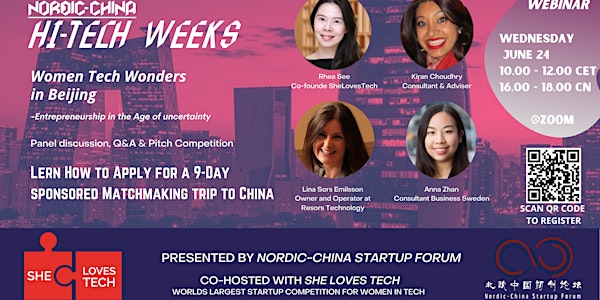 Women Tech Wonders In Beijing: Entrepreneurship in an Age of Uncertainty
Nordic-China Startup Forum invites you to the 5th Hi-Tech Weeks 2020 webinar: Women Tech Wonders in Beijing!
About this event
Nordic-China Startup Forum (NCSF) and She Loves Tech brings you this webinar on the topic of "Women Tech Wonders in Beijing: Entrepreneurship Under the Age of Uncertatinty"
We will dive into questions like why and how Nordic tech companies and innovators can operate in China? What opportunities will the environment and current world situation, provide for foreign entrepreneurs in China? And last but not least we will discuss female entrepreneurship in China. How is it any different from other parts of the world?
So block your calendar and see you on the 24th of June!
Programme
10:00-10:03: Welcome
Monika Lionaite - NCSF Stockholm Co-Head
10:03-10:10: NCSF & HTW 2020
Yundan Deng - NCSF Beijing Co-Head
10:10-10:50: Panel Discussion
Moderator:
Lina Sors Emilsson - Owner and operator at Resors Technology
Rhea See - Co-founder SheLovesTech
Kiran Choudhry - China Expert & Adviser
Anna Zhan - Strategic Consultant Business Sweden
10:50-10:55: Break
10:55-11:30- Pitch Session
Moderator :
Kristoffer Lundegren- CEO & Partner Nordic Apiary
Judge:
Rhea See
Kristoffer Lundegren
11:30 - Ending
Who we are looking for:
Anyone interested in the Nordic-China business and tech environment is welcome to join!
In particular entrepreneurs and scaleup companies looking to go global with their business solutions.
About SLT
She Loves Tech is the largest tech platform for women in the world dedicated to building an ecosystem of technology, entrepreneurship and innovation, and focusing on the opportunities it creates for women. SLT creates the world's largest women's technology startup competition, which aims to develop women-led technology and serve women. The 2020 "She Loves Technology" Global Entrepreneurship Competition will host substation competitions in 30+ countries.
About Nordic-China Hi-Tech Week
"Nordic-China Hi-Tech Weeks" (HTW) is the largest annual market & event platform for matchmaking between the Nordic-Chinese tech- & startup communities.
Powering Nordic tech-scaleup companies in their first steps & introduction to the Chinese market, investors, go-to-market partners & customers. In a unique free-of-charge & sponsored programme.
100 Nordic companies are selected annually to join 4 sponsored delegations, visiting 12 Chinese cities in open-sourced matchmaking trips together with Nordic & Chinese government agencies & business landing platforms.
To apply for HTW, please register here and compete for a sponsored matchmaking trip to China!
https://lnkd.in/gtQ7adu