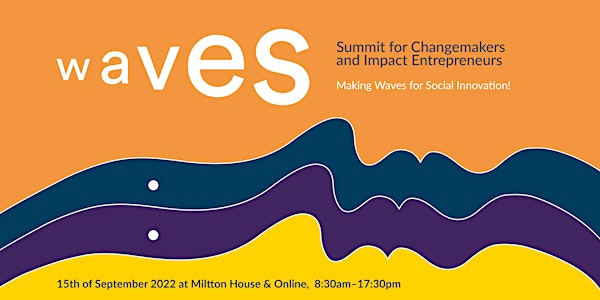 Waves - Summit for Changemakers, Social Innovation and Impact Entrepreneurs
If you are passionate about learning and connecting with people who are working with impact entrepreneurship, Waves is the perfect summit.
When and where
Location
Miltton 5 Aspnäsgatan 00530 Helsingfors Finland
About this event
Waves is a one-day summit in Helsinki and online that brings together actors committed to social innovation and systems change: innovators, academia, impact entrepreneurs, private and public actors, and investors.
The Waves hybrid event includes keynote speeches, presentations, panel discussions and workshops with a focus on three main themes:
🔍 Our future - Innovation as part of systems change
During sessions under this theme, hear from Hannah Kuper (Professor in Epidemiology at LSHTM, The Missing Billion initiative), First Ashoka Fellow in Finland Markus Raivio (CEO at Kukunori), and a Q&A and session facilitated by Ashoka.
Attend a workshop led by Mikko Dufva (Leading Specialist Foresight, Sitra).
Hear a panel discussion on how can we become great at transformative social innovation from Elisa Vepsäläinen (StartUp Refugees), Mårten Knuts (Managing partner, Krogerus), Mari Tikkanen (CEO and Co-founder Scope Impact), Neslihan Dane (Vice Chair, SKY ry Suomen kulttuurienvälinen yhteisö ry) and Ari Evwaraye (Head of Strategy, Finnish Ministry of the Interior), with Adam Jagiełło-Rusiłowski (PhD, Ashoka Fellow & Advisory Board, President of International Sustainable Education Foundation in The Hague) as moderator.
🚀 Acceleration & Support - Building an ecosystem for increased collaboration
Hear a session led by Sara Lindeman, Co-founder and CEO of Leapfrog Projects, on "Head, Heart, Will: Building capabilities for transformative change" together with Tomas Björkman (Founder of Ekskäret Foundation and Co-Founder of among others the Inner Development Goals initiative) and Per Olsson (Professor at Stockholm Resilience Center).
Learn more about creating ecosystems for change from Åsa Skogström-Feldt (CEO of IKEA Social Entrepreneurship) & Liisa Smits (CEO and founder of Ignitia) and attend a discussion facilitated by Agata Stafiej-Bartosik (Ashoka).
A session on empowering young changemakers will include a panel with Benjamin Pitkänen (Co-founder, Viral Vegans), Ronny Eriksson (Co-founder, Ambitious Africa; Co-founder Norders), Salaado Qasim (Co-founder of the Peace and Well-being organization), Milja Kalliosaari (Member of the Lennons CMI Crisis Management Initiative), moderator Eli Ingvarsson (Ashoka Nordic).
Hear from Evita Chiang Zanuso (Head of Strategic Partnerships, Katapult Foundation) Anna Herlin (Development Head at Tiina and Antti Herlin Foundation and Security Trading) and Henrietta Moon (CEO and co-founder of Carbo Culture), in a panel discussion moderated by Sara Lindeman (Co-founder and CEO, Leapfrog Projects) on how to support and invest in social and environmental impact startups.
Hanno Nevanlinna (Co-founder, Creator of New at Futurice) will also lead a workshop to guide changemakers and help them develop new impactful collaborations. Besides, Zeynep Falay von Flittner (Board Member of Systems Change Finland) and Jari Ala-Ruona (Co-founder of Oxygen ry) will develop the workshop "What do changemakers need to flourish?"
🔥 Funding & Investing - Financing possibilities and creating investment portfolios that drive positive societal change
📍 The summit takes place at Miltton House, Helsinki. You can also participate in the summit online, although please note that the amount of tickets is limited. Find out more on our website.
Warmly welcome!
🚀 Waves Summit 2022 is a collaborative project organized by Ashoka, in partnership with Tradeka, Krogerus, Svenska Folkskolans Vänner and CapMan for Good, in collaboration with The Eva Ahlström Foundation, Sitra, Aalto University, LeapFrog Projects, Systems Change Finland, YYO, Miltton, Arvoliitto and Futurice.