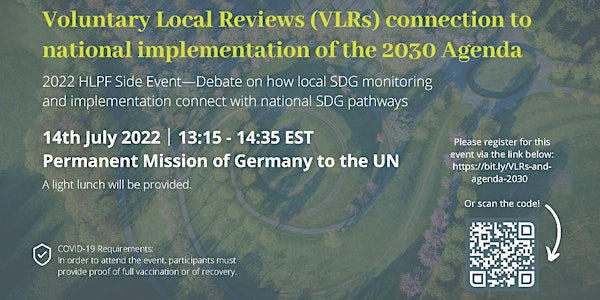 Voluntary Local Reviews (VLRs) and 2030 Agenda national implementation
Location
Nueva York
German House, 871-873 1st Ave
Nueva York, NY 10017
This is an in-person event, only register if you are planning to attend in New York. This event will be broadcasted on Youtube (@GermanyUN)
About this event
The High-level Political Forum on Sustainable Development will be held between July 5 and 15 of 2022. This side event within the Permanent Mission of the Federal Republic of Germany to the United Nations will be a debate on policy-coherence of local and national policymaking with snapshots from Germany and Colombia. The discussion will be guided by the following questions:
1. What are the implications of the sustainability activities included in VLRs for national policy decisions and, conversely, what are the feedback effects of national strategy and reports on municipalities?
2. In what thematic areas of the 2030 Agenda are municipalities the key actors to drive change and delivery of SDGs (and where do they need to have a solid interface with national policymaking)?
3. Where do municipalities share similarities and where are differences in establishing VLRs in various country context settings
The event is co-hosted by the German Council for Sustainable Development (RNE), the Stockholm Environment Institute (SEI), the Colombian National Planning Department (DNP) and the Federal Government of Germany.
Please note that this is an in-person event, only register if you are planning to attend in New York. If you want to attend virtually please join the streaming on Youtube: https://www.youtube.com/user/germanyun

Important COVID-19 Requirements:
In order to attend the event, all persons must provide proof of full vaccination or of recovery. Any individual who is symptomatic, even if fully vaccinated, may not attend the event. All participants must be wearing medical masks.