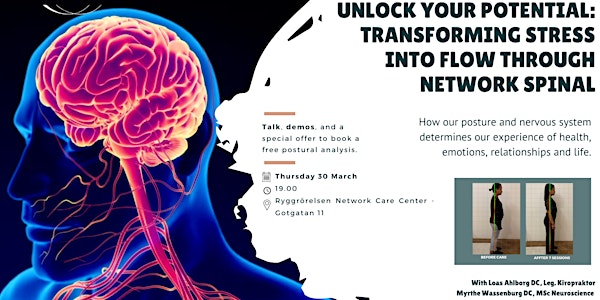 Unlock Your Potential: Transforming Stress into Flow through Network Spinal
Discover the power of Network Spinal and transform stress into flow. Join the intro night 30 March and learn to enhance your energy state.
Date and time
Starts on Thursday, March 30 · 7pm CEST
Location
Ryggrörelsen Network Care Center AB 11 Götgatan #3tr 116 46 Södermalm Sweden
About this event
Are you a seeker looking to get more out of life every day, looking to enhance your own potential and that of others?
Or do you feel disconnected, anxious, low mood, overwhelmed and barely have enough energy to make it through the day?
Or are you someone who knows you're able to do, give and be more, but you feel stuck in the hamster wheel?
Join us for an introduction to the power of Network Spinal and learn how this holistic approach can help you move from the fight, flight, or freeze state to a flow state. Stress is a natural response to our environment, but only rarely are we using it nowadays to our advantage. Most people experience stress that is definitely not constructive and ends up impacting their overall health, well-being and experience of life negatively.
Did you know your posture and (mental) health are connected? And that your spine literally tells a story of what you are experiencing in life right now? Your body will express and show anything from stress, survival mode, busy mind, as well as experiences like feeling on purpose, love, gratitude, and optimizing. The shape, tone and quality of your spine determines the shape, tone and quality of your life
During the intro night we will talk more about how our mind and body are connected and how you can experience more energy in your life. We will dive into the following topics:
🧠 A new way to look at stress
🧠 How your posture impacts your health, relationships, job, and impact you want to make in the world
🧠 The Human Operating System
🧠 You are a multi-layered system
You will also get to experience for yourself how your mind and body are connected through some breath exercises: Somato-Respiratory-Integration (SRI).
During this evening we have a special offer for all the newbies: you will have the opportunity to book a postural consultation totally for free!
Would you like to get some inspiration already? Check out our Facebook page and Instagram for interesting content, the latest news and results from current clients.
The talk will be held in English, Swedish translation is available on request.
Register yourself, family, and friends through Eventbrite!
Agenda
7:00 PM - 9:00 PM
Intro night - Transform stress into growth and enhance your energy levels
Ryggrörelsen Network Care Center
Frequently asked questions
Is this event for everyone?