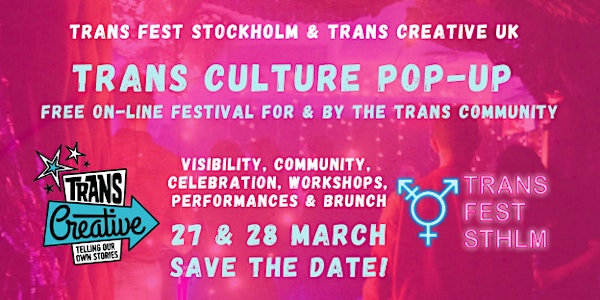 Trans Culture weekend pop-up
Trans Culture weekend pop-up - Trans Fest Stockholm & Trans Creative 2021
By Trans Fest Stockholm and Trans Creative UK
Date and time
Sat, 27 Mar 2021 03:30 - Sun, 28 Mar 2021 07:00 PDT
About this event
The event starts on Saturday March 27th at 10:30pm in the UK / 11:30 in Sweden & Europe and ends on Sunday March 28 at 3:00pm in the UK / 4pm in Sweden & Europe
Note that the clocks change overnight between March 27th and 28th!
Come and hang out with us and our friends for a chilled weekend of workshops, poetry, films and brunches for and by the trans community.
(Om du har några frågor på svenska eller behöver hjälp med översättning från engelska skicka ett meddelande till info@transfeststockholm.org)
This is an event by and for everyone in the Trans community.
We'll be meeting on-line, creating a space to enjoy the resilience and creativity of our community.
If you would like to support our work & future community events, you are very welcome to make a donation!
SWISH: 123 087 6417 (Swedish phone number required)
SCHEDULE (UK / CET)
Saturday March 27th
10:30-11:00 / 11:30-12:00 Hang-out brunch time
11:00-11:45 /12:00-12:45 Movement workshop (ENG)
12:00-12:45 /13:00-13:45 Tarot workshop (ENG)
(lunch break)
14:00-14:30 /15:00-15:30 DreamSiblings curated poetry block (SWE)
15:00-16:00 /16:00-17:00 Poetry open mic (ENG/SWE)
18:00-19:00/19:00-20:00 Film screening (ENG)
!!!CLOCKS CHANGE!!!
Sunday March 28th
11:00-12:00/12:00-13:00 Drag and dress-up brunch
14:00-14:45/15:00-15:45 Trans history block
You need to register to attend.
Registration for the event gives you a weekend pass and you are then free to attend whichever sessions you want. You can register at any time before or during the weekend. It helps us to plan if you pre-register.
Log-in details will be available on your ticket from an hour before the event starts. For many parts of the weekend we'll be gathering on Zoom. It is of course up to you if you want to share your camera, or an image during the event.
***This is an alcohol free event.***
Access Info:
The main language for the event is English, we'll have Swedish speakers at the events to help with translation if needed
We are working on having a text to screen service subtitling in English for parts of the weekend
Please let us know of any other access needs you may have by emailing us at info@tranfeststockholm.org.
Zoom etiquette and security:
All guests will be muted on entry and only registered guests will be able to enter.
Please feel free to turn your camera on or off as you wish. Please use the same name as you did at registration, or you may not be able to enter. This is to prevent "zoom-bombing".
This is a space by and for our community. Any displays of racism, transphobia, homophobia, biphobia, sexism, ablism or other bigoted stance will not be tolerated and will result in being immediately removed from the room. This encompasses both video and the chat.
With support from Stockholm stad and ABF Stockholm.