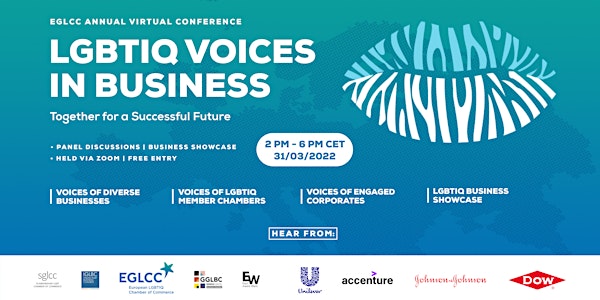 The LGBTIQ Voices in Business: Together for a Successful Future
The LGBTIQ Voices in Business: Together for a Successful Future is about raising all voices on the spectrum and listening to each other.
About this event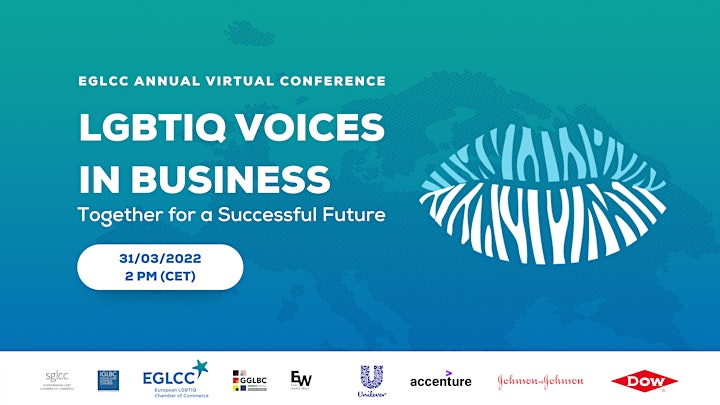 What is the mission of the LGBTIQ Voices in Business Conference?
The purpose of our annual conference isn't simply to promote and celebrate LGBTIQ businesses across Europe. In the light of the Russian war against Ukraine and the global repercussions it yielded, the togetherness, encouragement, and support throughout the entire LGBTIQ business ecosystem are essential in navigating the current business landscape. 
The LGBTIQ Voices in Business Conference provides a safe and welcoming place to raise all voices on the business spectrum and listen to each other. Together, we can support one another, share ideas to inspire each other, and ignite further change for a successful future in times like these, when the horizon seems somewhat cloudy. 
Who can you 'e-meet' with on March 31, 2022?
The entire European ecosystem around the LGBTIQ business community. From diverse business owners, supplier diversity professionals, and corporate leaders to ERG leads, NGOs and public agencies representatives, broader LGBTIQ professionals, and allies. We bring the whole community together for a holistic overview of the pressing issues of the LGBTIQ business community while sharing plausible solutions and providing the support and encouragement to move towards a successful future together.
What can you be looking forward to?
A learning-focused agenda, AMA (ask my anything) sessions, and rapid online polls/surveys. With Dr. Juliane Kronen in charge of facilitating the conference, you can certainly look forward to thought-provoking discussions and deep, unscripted conversations that will enable new ideas to thrive and fresh perspectives to grow.
Agenda
Welcome Remarks
A Moment of Silence for Ukraine. Introduction of EGLCC's work and mission.
Voices of Diverse Businesses
The panel discussion revolves around experience sharing and diverse suppliers' support lifecycle, demonstrated on a case study supported with examples of a business showcase and a follow-up session.
Voices of LGBTIQ Chambers
The national and regional chambers are the pride and the source of the EGLCC's core strength. The second panel thus provides a quick dive into the mission and services of our national and regional chambers. Moreover, the Chambers present a concise overview of the current events and highlights of the LGBTIQ community in their respective regions.
Voices of Engaged Corporates
What is the contribution of our corporate partners to the LGBTIQ diversity in business? And how do the ERG groups cooperate with the LGBTIQ business chambers? Find out the answers to these questions during the Voices of Engaged Corporates panel that focuses on a diverse range of topics from the recent achievements in supplier diversity, ERG ambassador results, inclusive procurement approach, and beyond.
Diverse Businesses Showcase
Vit Lichtenstein will navigate you through the following showcase session that shines a spotlight on eight LGBTIQ owned and managed businesses from a diverse mix of industries. Each business will have 3 minutes to pitch, followed by a 2-minute AMA (ask me anything) session
Closing Remarks & Thank you
Main takeaways and key message of the conference