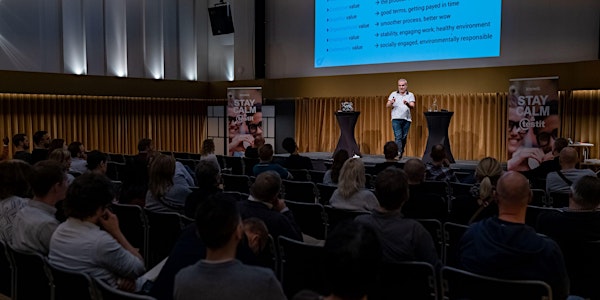 Testit2023
The one day conference for testers, by testers! A test conference that gathers and shares various skills, knowledge, and inspiration.
Date and time
Tue, 19 Sep 2023 08:00 - 17:00 CEST
Location
Sankt Gertrud Östergatan 7B 21125 Malmö Sweden
Refund Policy
Refunds up to 30 days before event
About this event
Testit is a yearly, one-day IT conference in Malmö especially focused on software testing. We offer presentations, workshops, and sessions on testing with some of the best local and international speakers in the field. With three tracks and a careful selection of themes, topics, and speakers, we strive to offer interesting, inspiring, and pedagogical sessions for testers with various specializations and knowledge levels. You can read more about the conference here
We are happy to announce that the Testit conference is back for it's eighth year!
The theme this year will be 'Storytellers'. Whether it be a success or failure, there's plenty to learn from every experience - especially when we dare to take a big leap and challenge ourselves. Let's extend these valuable lessons and learn from eachothers stories. We already have a few awesome speakers lined up, including the very man who inspired the theme through his highly rated session in 2021, the fantastic Huib Schoots. He will kick off the conference through enlightening us on the art of storytelling, and how to leverage this in your test reporting. Ulla-Karin Barrett will take us on a thrilling journey through the different iterations of the internet in her talk The Next Digital Frontier for Inclusivity, and the highly relevant topic of AI will be revisited again in an interactive panel session. Indranil Sinha will demo two of the automation solutions developed for Marginalen, one for which he received EuroSTAR RisingStar Award finalist 2022. Or how about a movie night with Jenny Steen featuring goodies like popcorn, How to lose a guy in 10 days and Groundhog day? These are but a few of the exciting sessions we are offering this year, read more about them and keep your eyes open for new announcements on our speakers page
This year our venue is gorgeous Sankt Gertrud at the heart of Malmö. Here we can offer spacious rooms for both within and in-between the sessions for participants to spread out comfortably, overlooking the canal and venue courtyard and cobblestone streets. You can attend the conference with a good conscience as Sankt Gertrud has taken various steps toward becoming a sustainable meeting place with everything from serving locally produced, ecological food to environmental energy and waste management. We are convinced that this location, alongside the sessions, speakers, topics and activities we have selected with great care, will transport you from your every day work and fill you with new knowledge, inspiration and motivation. Read more about the Testit conference and previous years events here! You can also learn more details about the conference through checking out our FAQ .
About the organiser
Knowit är ett konsultbolag som stöttar företag och organisationer i den digitala transformationen. Med en unik kombination av kompetens inom it, design, kommunikation och management utvecklar vi innovativa och hållbara lösningar som bidrar till ett högt affärsvärde för våra kunder.
Knowit etablerades 1990 och har i dag cirka 3 800 medarbetare i Sverige, Norge, Danmark, Finland, Tyskland och Polen. Vår kultur präglas av öppenhet, förståelse för kundens affär, hög specialistkompetens och en vilja att ständigt utvecklas. Knowit är sedan 1997 noterat på den nordiska börsen i Stockholm.