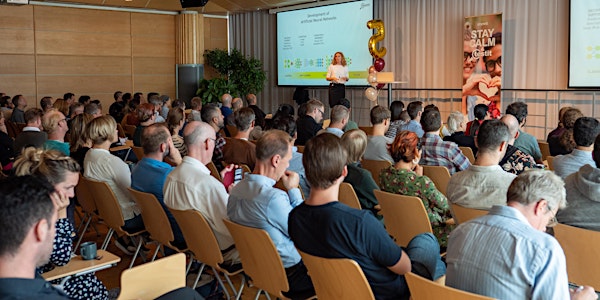 Testit2021
The one day conference for testers, by testers! A test conference that gathers and shares various skills, knowledge, and inspiration.
When and where
Location
Sankt Gertrud Östergatan 7B 21125 Malmö Sweden
Refund Policy
Contact the organiser to request a refund.
About this event
We are so happy to announce that the Testit conference is back for it's sixth year, following last years cancellation due to Covid. After a long time where we have all spent time apart, we wanted to bring the conference back with the theme ReConnect. We cannot know exactly what the future holds, but what recent events have taught us is that we may not always be able to work in the same physical space. How to we collaborate, communicate and lead in the best possible way when connecting only, or partially, digitally? This we will explore together during this years conference. As always we will ofcourse also have our three tracks - offering a large selection of interesting presentations and workshops on various topics within testing from some of the best local and international speakers in the field. We are happy to announce that Huib Schoots will be holding a Keynote at this years conference. He will also be one of the speakers in a new exciting format for Testit! A panel session, exploring a vital topic for us all - The most important skills for us to learn as testers. Cloud guru Jimmy Dahlqvist is joining us to give a insightful talk on CI-CD. Of course we will also have sessions on this years theme, on everything from how to hold engaging and efficient meetings to resolving conflicts digitally. These are just a few of this years interesting sessions.
View the session abstracts and read more about the speakers here!
Another exciting anouncement Testit is moving to a new venue - the gorgeous Sankt Gertrud at the heart of Malmö. Here we can offer spacious rooms for both within and inbetween the sessions for participants to spread out comfortably, overlooking the canal and venue courtyard and cobblestone streets. You can attend the conference with a good conscience as Sankt Gertrud has taken various steps toward becoming a sustainable meeting place with everything from serving locally produced, ecological food to environmental energy and wastemanagement. We are convinced that this location, alongside the sessions, speakers, topics and activities we have selected with great care, will transport you from your every day work and fill you with new knowledge, inspiration and motivation. Read more about the Testit conference and previous years events here! You can also learn more about the conference through checking out our FAQ.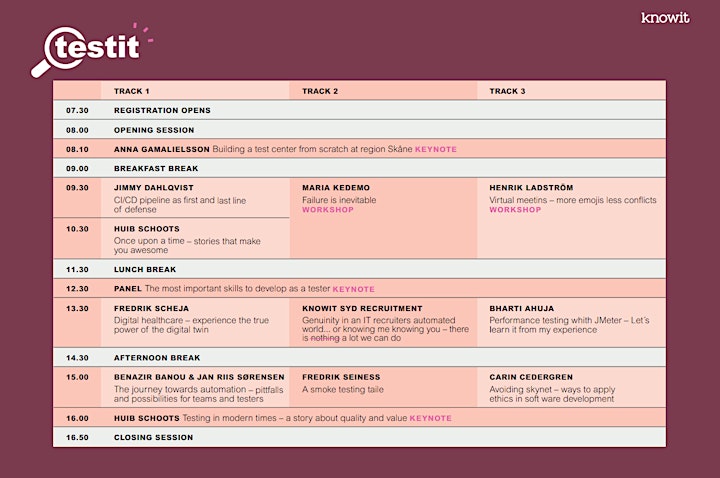 Our promise to you... (Covid information)
It should feel safe both to sign up for, and attend, Testit in these uncertain times. Therefore we have prepared for a number of precautions together with our venue as well as offering the following pledges for you participants. We are continuously monitoring the situation and will adjust the event at any point if needed - your safety and wellbeing is our number one priority. We will keep this site and registered participants updated with relevant information. Below you can find all information in detail, we have also put together a short video overview in our FAQ.
The conference will follow all restrictions and recommendations
Laws, restrictions and recommendations by the state applicable for this type of event will be continuously monitored by the Testit organizers. The conference will be tailored to follow them in full. If we deem that the conference will be unable to fulfill any of these terms, the conference will be cancelled. Registration would be closed and all participants that have registered up to that point would be informed and refunded.
Full refund if the event gets cancelled
In the event that Testit need to be cancelled as a result of laws, restrictions or recommendations from the state that we are unable to adhere to, a full refund will be issued to all participants. No application deadline, terms or other clauses.
Full refund if you cancel your ticket a month before the conference
In case you would need to cancel your ticket, you can do so until 11/10/2021 and recieve a full refund. Simply send us a mail notifying us regarding your cancellation. Tickets canceled after this date will not be refunded unless the event is canceled. Alternatively you can choose to give your ticket to a colleague up until 3/11/2021. In this case, email us stating that you would like to hand over your ticket and include your name, and your colleagues information - Name, email, phone number and potential food allergies/preferences.
Full refund if are ill
In case you get ill we urge you to stay home and not attend the conference. Email us with doctors note or test result documentation and we will make sure your ticket is fully refunded.
Refunds
For those who have paid by Paypal, your account will be refunded for the full paid amount shortly following the cancellation of the event or your ticket. If you have chosen invoice as payment option, your invoice which usually would be issued after the event, simply won't be sent to you.

Contact
We are happy to assist you with any questions, concerns, ideas or anything else at Testit@knowit.se. We look forward to hearing from you, and hopefully seeing you at the conference!