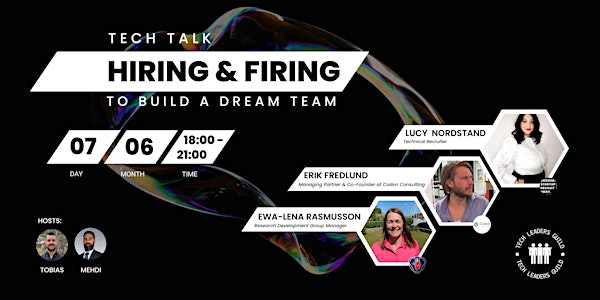 Tech Talk: Hiring and Firing to Build a Dream Team
Engage with tech leaders as we dive into hiring and firing discussions. Gain insights, connect with peers, and expand your network.
Date and time
Wednesday, June 7 · 6 - 9pm CEST
Location
Stim 103 Hornsgatan 117 28 Södermalm Sweden
Refund Policy
Contact the organizer to request a refund.
About this event
📢 We are thrilled to announce our next event, where we talk about hiring and firing. Join us for an evening of informative discussion and engaging conversation with fellow tech leaders and executives.🚀
Our expert panelists will share their experiences and insights on various aspects of the hiring process, including when to add new people (and when not to), defining roles, recruitment, interviews, taking references, scoring, negotiating terms, onboarding, and forming/storming/norming. We'll also discuss the dark side of the coin — firing contributors, and the many parameters and considerations that go into that process.
Expect a lot of discussion around best practices and the impact of these processes on the team and organization at large. This will be an interactive session; your participation and questions are highly encouraged! 💡💬
🎤 Panel Members:
Lucy Nordstand Technical Recruiter at Swedish Startup Recruitment
Lucy Nordstrand is an experienced HR professional and Talent Acquisition Partner with over 13 years of experience. She has worked in various industries but has specialized in tech recruitment for the past 7 years. Based in Stockholm, Sweden, Lucy helps companies of all sizes find top talent to fill their technical roles in the Silicon Valley of Europe. She is also an active volunteer speaker, advising on job searches, LinkedIn profiles, and CVs, writing non-fiction, and mentoring junior recruiters.
Erik Fredlund, Managing Partner & Co-Founder at Codon Consulting
Erik Fredlund has a PhD in Molecular Medicine and Bioinformatics and spent several years as a project- and group leader at academic institutions such as UCSF and Karolinska Institutet. In 2017 he started his first consulting company which later merged to become the AI and data science consultancy Codon Consulting. In both the industry and academic settings, Erik has had a focus on building, recruiting and leading expert teams of data scientists.
Ewa-Lena Rasmusson, Research Development Group Manager Embedded Development tools at Scania CV AB
Ewa-Lena Rasmusson has built her long carrier in the tech industri on three pilars — transformation, technology and teams & leadership. In the early 90's she was part of building mobile global networks, entering the Internet era and now in electrifying transport solutions.
We will also discuss several books that we recommend for those who are interested in further study on this topic. 📚
This event is an excellent opportunity to expand your network and connect with other like-minded individuals in the industry. We'll provide a friendly and relaxed environment for you to engage in meaningful conversations with your peers. Don't miss out on this chance to learn, share, and connect with others in the tech community.🌐💼
📅 Date: June 7th
📍Location: Stim Headquarters
⌚Time: 18:00
🎟️ Total available seats: 50
If you or someone you know would like to be part of our panel of speakers for future events, please don't hesitate to contact us. We're always looking for knowledgeable and passionate individuals to share their expertise with our community.✨
About the organizer
Join us at Tech Leaders Guild for engaging and thought-provoking discussions on navigating the world of tech leadership and management. Led by organizers Tobias Sjösten and Mehdi Mokhtari, our events bring together like-minded professionals to share ideas and insights on the challenges and opportunities facing the tech industry today. Whether you're an experienced leader or just starting out, our events offer valuable networking opportunities and actionable takeaways to help you build a successful career in tech.