Det här eventet har avslutats.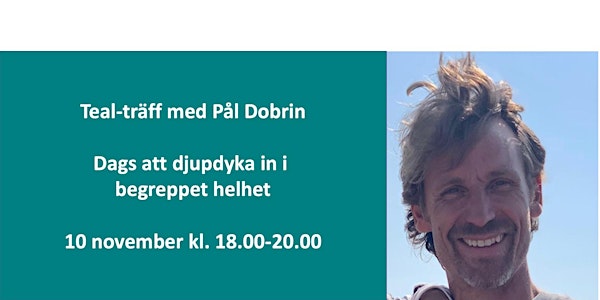 Teal-träff med Pål Dobrin, grundare av CARE meditation
Dags att djupdyka in i begreppet Helhet
Datum och tid
ons 10 nov 2021 09:00 - 11:00 PST
Återbetalningspolicy
Kontakta arrangören för att begära återbetalning.
Eventdetaljer
Dags att djupdyka in i begreppet Helhet!
Laloux skriver i boken Reinventing organizations att TEAL-organisationer motsvarar det senaste steget i det mänskliga medvetandets utveckling. Vad menas egentligen med det?
Vad innebär helhet ur ett praktiskt perspektiv för organisationer och vad är den större bilden?
Tillsammans med meditationsläraren Pål Dobrin utforskar vi medvetenhet och helhet ur filosofiska, psykologiska och andliga perspektiv.
Är en inre transformation och ett perspektivsskifte nödvändigt för yttre transformation i form av kulturförändring och sätt att verka som organisation?
Du kommer få konkreta tips om hur ni kan arbeta för ökad medvetenhet i din organisation . En del av utforskandet sker i form av guidade meditationer.
Varmt välkommen!
Pål Dobrin är grundare av CARE Meditation med Meditationslärarprogrammet CARE och de populära CARE-kurserna. Han är även metodansvarig i Cairy appen som vänder sig till människor med olika sorters beroendeproblematik samt ansvarig för träning i självmedvetenhet och förhållningssätt inom METIS Suicidologi för blivande Psykiater. Pål är en av de ansvariga för nätverket Teal for Teal i Västsverige.
Om arrangören
Teal for Teal Sweden is a part of the Teal for Teal-community. This is a new international community (www.tealforteal.com), which finds its base in the teal-principles as pointed out in the book Reinventing Organizations by Frederic Laloux. We initially strive to bring together and connect likeminded people, to feed, discuss and learn more about the teal-ideas, it doesn't matter what background, tool, system or method people use towards the evolutionary purpose of starting a transformation leap towards the teal-principles as long as that purpose stays the main objective. Feel free to put forward any discussions, posts, ideas and insights towards this main frame. Together we can co-create the 'Teal-movement' both here in Stockholm and all over Sweden by taking action, starting discussions etc.