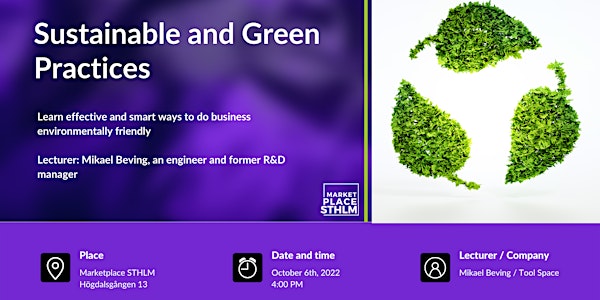 Sustainable and Green Practices
In this workshop you will learn effective and smart ways to do business environmentally friendly, thus helping save our planet!
When and where
Location
Marketplace STHLM i Högdalen Centrum 13 Högdalsgången 124 54 Enskede-Årsta-Vantör Sweden
About this event
Learn effective and smart ways to do business environmental friendly!
"You cannot get through a single day without having an impact on the world around you. What you do makes a difference and you have to decide what kind of a difference you want to make." - Jane Goodall
Everybody wants to launch green businesses, but how does that translate into real actions? During this hour, Mikael will give you a tool that will help you reduce your carbon footprint. Be prepared for a new way of thinking about green solutions that might twist your preconceived ideas around carbon footprint.
Topics covered:
Learn about the importance of sustainability
Learn effective ways to do business environmentally friendly
Learn to use a tool that helps reduce your carbon footprint
Marketplace STHLM has teamed up with Mikael Beving. Mikael Beving is an engineer, former R&D manager who is passionate about changing the world step by step by putting meaningful products on the market. Mikael has been working as an R&D manager as the largest supplier to IKEA within his field, and has put products on the market on most continents and experienced all steps from the early prototypes to full production. Mikael is the co-founder of Tool Space, which is at the crossroad between hardware development, design, sustainability, circularity, and entrepreneurship. ToolSpace gathers the skills and tools needed to achieve the best for the planet, people and businesses.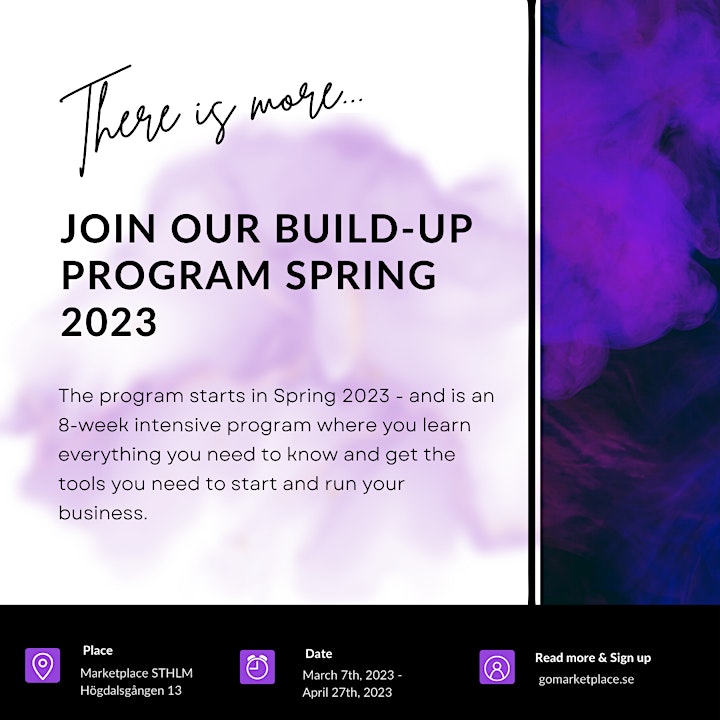 Want to learn more? Yes, you can!
This course is a part of our 8 weeks entrepreneurship program, called the Build up program. The program is designed for entrepreneurs who are ready to take their business to the next level. It covers all aspects of accelerating business.
From building a team to consulting to explore funding opportunities - either through our partners or other options. The goal is to help new entrepreneurs structure their ideas, do the right industry research, understand their market and build a winning business plan - this with the help of our strong mentors, theory studies and during the program's meetings you get to take part in individual business development, expert help, lectures and co-working .
You will have a complete pitch package to use for investors, banks and with our partners when you have completed the program.
The program runs for 8 weeks between 7/3 – 27/4 with 3-4 hour meetings per week on Tuesdays and Thursday afternoons.