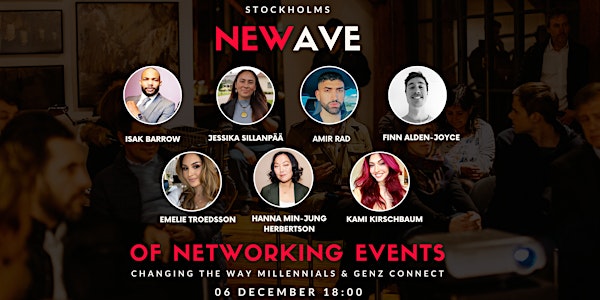 Stockholms New Wave of Networking Events
Calling all Entrepreneurs, Creatives & Career Changers!
When and where
Location
Helio Hornsull Hornsbruksgatan 23b 117 34 Stockholm Sweden
Refund Policy
Contact the organizer to request a refund.
About this event
Are you tired of being surrounded by small minded people?
Do you want to expand your network and break out of your bubble?
Are you sick of your 9-5 or looking for your entrepreneurial breakthrough?
If you answered yes to any of the above then keep reading.
Join us for this unique event in Stockholm Tuesday 6th December at 18.00!
A space to encourage creative thinkers, visionaries and those who believe they are capable of more. Changing the way Millennials & GenZ connect, we are bridging the gap between on and offline interaction with our events. We aim to empower, enrich and educate through our inspiring yet relatable panelists.
Our mission is to encourage the next generation of thought leaders and to keep your flame alive. They say your vibe attracts your tribe so who knows who you'll meet? Maybe you'll make new friends, meet your next business partner, find a mentor, someone to collaborate with or your next clients.
With a surprise networking activity to be annouced, here are your panelists:
PANEL SPEAKERS:
Jessika Sillanpää – Creator of JessikasStory. Public speaker, consultant and certified in grief recovery.
Isak Barrow – Founder of tech start up Movera, Athlete, Business Advisor & Investor
Finn Aldén-Joyce – Former professional athlete that's now the rising star in comedy
Amir Rad - Serial Entrepreneur with an early start. Wholesale/Real Estate Investor with experience in e-commerce, marketing as well as web 3.0 including NFTs & Crypto.
MEET YOUR HOSTS:
Emelie Troedsson @emelienotemily
Emelie is a third culture entrepreneur navigating being multi-passionate and curating a unique career path. Being half Swedish half Filipina, growing up in Nigeria and moving to the UK at 14, she is an expert in being different.
A year and a half ago she was unemployed, broke and lost. Today she is a business owner, coach & creative travelling the world. Nothing brings her more joy than connecting with people & helping them level up in life too. Hence, here we are!
Hanna Min-Jung Herbertson @hannaisgolden
What happens when a baby girl from Korea is exported to Sweden? She grows up to be a digital marketer and a viral dancehall success of course.
Hanna went from Busan to Gotland and then lived ten years in Brooklyn. She also feels at home in Jamaica and Nigeria where she has worked and spent time. She's currently residing in Stockholm and works as a strategy and content consultant for some of Sweden's biggest brands.
"Bridging cultural gaps is something I've done since I was a baby and I'm so excited for the new wave of entrepreneurs to enter the scene!"
Kami Kirschbaum @kamikirschbaum
Starting out in the beauty industry at the age of 15, to buying a one way ticket to Stockholm from the U.S at 18 years old Kami Kay has found herself making the world her living room. When she isn't behind the chair styling hair, you can find her teaching painting classes. She's also passionate about all things Web3, crypto, and financial freedom and she wants to bring as many on that journey as she can. Hop on, trains leaving!
---------------
The event will be hosted in English to cater to our multicultural audience.
If you would like to bring a plus one we advise grabbing 2 tickets while you can. Tickets are limited to the capacity of the event space.
Dress code: Be yourself!
Snacks and Oh Poké bowl samples will be served. Drinks available to purchase from bar.
Any questions, do feel free to reach out to your hosts Emelie, Hanna or Kami via social media platforms or email ask.new.wave@gmail.com.