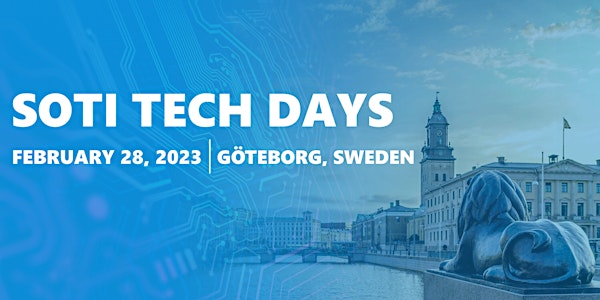 SOTI Tech Days Nordics
Uncover how SOTI customers utilise the SOTI ONE Platform to take their mobility to the next level at this exclusive one-day event.
Date and time
Starts on Tue, 28 Feb 2023 08:30 CET
Location
Elite Park Avenue 36 Kungsportsavenyen 411 36 Lorensberg Sweden
About this event
Business mobility is critical to an organisation's success. More of your workers are using mobile devices, apps and printers to efficiently do their jobs.
As a company's reliance on devices and apps increases, so does the scale and complexity of deploying and securing these assets. Business mobility has never been more relevant and managing it has never been more challenging.
Learn from existing SOTI customers how to unlock powerful solutions for all your mobile needs by joining us at the SOTI Tech Days Nordics event at the luxurious Elite Park Avenue Hotel.
Agenda - Updated Live
08.30 – 09.00 Registrations Open & Welcome Coffee
09.00 - 09.30 Device Data: The Future of Mobility Management with Anton Wingstrand
09.30 – 10.00 Securing Your Unified End Points with Samuel Griffiths
10.00 – 10.45 Morning Fika
10.50 – 11.20 Sustainability in Tech with Samuel Griffiths and Matilda Bengtzén
11.30 – 11.50 CipherLab Presentation
12.00 – 13.00 Buffet Lunch in Elite Hotel Private Dining Room
13.10 – 13.40 Monitor Indoor Devices in Real Time with SOTI Indoor Location with Mikhail Ishkhanov
13.40 – 14.00 Zebra Presentation
14.00 – 14.30 PostNord:10+ Years of Success with SOTI
14.30 – 15.15 Afternoon Fika
15.15 – 16.00 Mobility Management of Tomorrow: SOTI ONE Platform Product Roadmap with Mikhail Ishkhanov
16.00 - 16.15 SOTI Updates & Closing Address with Stefan Spendrup and Ville Viljanen
16.15 – 17.15 - Happy Hour Drinks
17.30 – 18.30 Dinner in Elite Hotel Dining Room
19.00 – 21.00 After Party*
About SOTI
SOTI is a proven innovator and industry leader for simplifying business mobility and IoT solutions by making them smarter, faster and more reliable. SOTI helps businesses around the world take mobility to endless possibilities. Companies in the Nordics like COOP Sweden, PostNord, Salling Group and SHS Iceland trust SOTI's solutions to reduce the cost, complexity and downtime of their mobile operations.
Our Event Sponsors