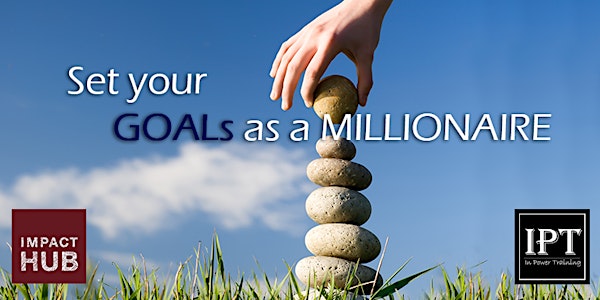 Set your GOALs as a MILLIONAIRE!
When and where
Location
Impact Hub Stockholm 25 Luntmakargatan 111 37 Stockholm Sweden
Refund Policy
Contact the organizer to request a refund.
Description
We hear a lot about the importance of goal-setting, but most of us don't have clear and measurable goals to work toward. Lewis Carroll said once, "Any road will get you there if you don't know where you are going." So how can we set our goals and achieve what we want?
At this training, we will have the opportunity to practice multiple tools that will help you to:
- Understand your personal Vision, Mission and Personal Values. These elements will help us to be aware of our personal wishes and key points that make your life full of sense;
- Define one of YOUR goals by a unique technique START, developed from the multiple tools and more than 5 years of personal experience as a trainer. You will discover how to daily make at least one step forward to your achievements.
- Practice a millionaire's strategy of setting a real plan that for 100% will make your goals work in the real life.
This training is also created for a very limited number of people, who really wish to become successful and feel determined to take actions! That's really important, because we always put a huge value on the practical part of our events, working on the things that you will be able to apply in real life, right after the training! Also, you will have the opportunity to work directly with the trainer on your personal goal that assures both your best understanding of the tools and also guide you through any difficulties you may feel.
And there is coming something even more amazing! This training itself has a value of 1000 kr. But Elena is going to make a super offer because she really wants you to be able to attend this training and become more successful. So for the training only, charges will be dropped to just 200 kr. How much? Yes, that's right - only 200 kr!

And that is not all! Do you remember that this training is created for a very limited number of people? So, here it is! For those, who really feel that you want to be part of this experience and invest in yourself - register before 12.07.2017 and you will get a further 50% discount on this special price! And remember we have just 10 spots in total so first come, first served!
See you at the event!
-----------
Elena has practiced different tools and has worked on goal setting for more than 5 years, being part of the international organization AIESEC and a Global Company "Tucano Coffee", participating at international trainings regarding the topic from Success Resources trainings and Mindvally Academy, joining trainings of Brian Tracy, Andy Szekeli, Harv Eker, Robert Riopel, Robin Sharma and others.