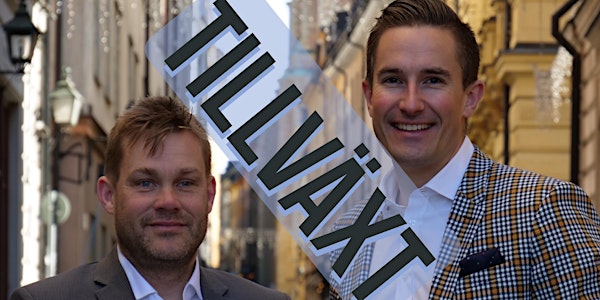 Säkra tillväxt i ditt bolag med cross selling och ambassadörer!
When and where
Location
Metanoova Utbildning AB 11 Götgatan 116 46 Södermalm Sweden
Description
Den 26 oktober bjuder Top of Heart in dig till en morgonföreläsning med fokus på tillväxt. Vi kommer skippa det intellektuella snacket när det kommer till att skapa cross-selling samt ambassadörer och varför det är viktigt.


Istället kommer vi gå rakt på sak
kring
vilka
beteenden,
taktiker och strategier som funkar enligt våra erfarenheter för att få igång cross-selling och
för att få
fler nya kunder via referenser internt och externt.


Vi utgår ifrån att du som kommer är tillväxt ansvarig för ditt bolag och att du tror på att växa via referenser och ambassadörer som en stark strategi för framgång, nu och i framtiden. Du är troligen ägare, VD, Försäljningschef eller marknadschef.
Vi som talar:
Ken Skoog: Tillväxtrådgivare, Business coach och investerare i flertalet bolag, bland annat i Top of Heart. Ken Skoog har gedigen erfarenhet av att skapa tillväxt i roller som VD, Tillväxtchef och som Försäljningschef. I över 12 år hade Ken ledande befattningar inom HR och tillväxtkoncernen Wise Group där han ansvarade för att bygga säljkultur, säljstrategier men inte minst byggde han en väldigt stark cross-selling verksamhet. Nu är Ken tillbaka i Wise Group i form av styrelsemedlem.
Alexander Slotte: Är Grundare av Top of heart och har mångårig erfarenhet av strategiskt och operativt lojalitetsarbete för växande bolag. Med snart 20 år av försäljningserfarenhet i ledande roller är idag drivkraften att få individer och företag att växa snabbare med hjälp av interna och externa ambassadörer, där förtroende och starka relationer sätts i fokus.
Tid:
07.30 Fika och nätverkande
08.00 Vi kör igång (inget eftersläpp)
09.00 Slut