Det här eventet har avslutats.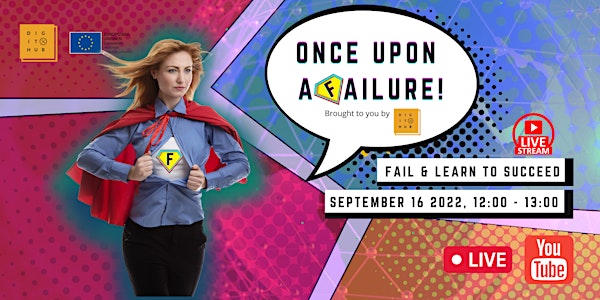 Once Upon a Failure: Digitalisation gone wrong
Well hello, fellow failure hero!
Eventdetaljer
We all make mistakes. Some opt to cover them up and never speak about them – but you are not like that. You see failure as an opportunity to grow, learn and bounce back.
Through DigIT Hub's event series "Once Upon a Failure", we are highlighting that the journey of digitalisation isn't always easy - and that that's okay.
We do this by sharing stories of digital failures in a light-hearted and fun manner, using a virtual studio and stage for you to meet our inspiring guest speakers.
The emphasis is on lessons learned and cultivating a culture of openness around the common challenges we face in digitalisation.
______________________________________________________________________________________________________
Join us on September 16 for our next edition of "Once Upon a Failure", where we are excited to announce that we are joined by the following guests/failure heroes:
Therese Boija (DIGG)
Staffan Persson (SiB Solution)
Third speaker to be announced
The event is moderated by Leslie Alfredsson, and hosted in English.
Register now to save your spot!
______________________________________________________________________________________________________
EVENT DETAILS
When: September 16, 12:00 - 13:00
Where: Livestreamed digitally, using a virtual studio