Det här eventet har avslutats.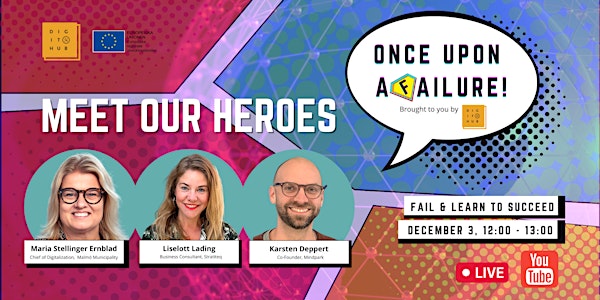 Once Upon a Failure: Digitalisation gone wrong
Well hello, fellow failure hero!
Eventdetaljer
Digitalisation isn't always easy, and that's okay!
In DigIT Hub's new event series 'Once Upon a Failure' we are guested by exciting speakers who will be sharing stories about digital mishaps, failures and "oh-shit moments" - all in a light-hearted and fun manner, while focusing on lessons learned and advice to others wanting to avoid pitfalls.
Join us on December 3 for our next edition of "Once Upon a Failure", where we are excited to announce that we are joined by the following guests/failure heroes:
Maria Stellinger Ernblad (Chief of Digitalisation, Malmö Stad)
Liselott Lading (Business Consultant, Stratiteq)
Karsten Deppert (Co-Founder, Mindpark)
The event is moderated by Leslie Alfredsson, and hosted in English.
Register now to save your spot!
______________________________________________________________________________________________________
EVENT DETAILS
When: December 3, 12:00 - 13:00
Where: Livestreamed digitally, using a virtual studio