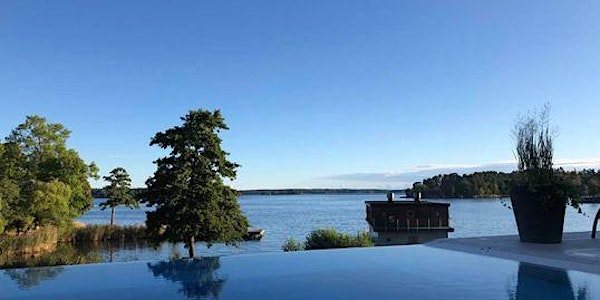 NTIF 2021
Welcome to NTIF 2021 in Stockholm – finally back to meet in-person!
When and where
Location
Skepparholmen Nacka Franckes väg 132 39 Saltsjö-boo Sweden
Refund Policy
Contact the organiser to request a refund.
About this event
NTIF 2021 will be a one-day conference on 17 November, followed by a cocktail hour with networking and an optional 3-course dinner. For attendees staying the night, we will arrange an "unconference" the following morning on topics by choice of the attendees. All information you need is on our website: www.ntif.se
VENUE
Our venue Skepparholmen is beautifully situated just where the Stockholm archipelago starts.
Getting here:
By car: 20 minutes by car from Stockholm city center, free parking.
By boat - two options:
SL ferry #83 from Strömkajen 8.00 to Hasseludden, arrival 28 minutes later. Pre-pay your ticket in the SL app, about 40 SEK (4.00 EUR)
Waxholm ferry #13 from Strömkajen 8.15 to Hasseludden, arrival 25 minutes later. Price one way 76 SEK (7,50 EUR), payment on board.
A short 10 minute walk from the Hasseludden ferry stop, gets you to the venue and a welcoming morning fika.
Main conference agenda at a glance, 17 November
Registration 8.30–9.30
Conference starts with opening remarks and keynote 9.30
Lunch 12.00–13.00
Coffee break 14.45–15.15
Closing remarks 17.30
Cocktail and networking 18.00
Dinner (optional and not included) 19.30
For program details and speakers, please visit our website
Un-conference, 18 November
In addition, for all attendees who choose to stay the night, we will organize a half-day un-conference on 18 November. This means, round-table conversations on topics agreed by you and your industry peers, on the spot. Lunch can be purchased at the venue before we part company.
Prices
Conference: 250 EUR (+ 25 % VAT)
Conference Dinner: 100 EUR (+ 25 % VAT)
Un-conference: included in the main conference fee
HOTEL ROOMS
Price per night including breakfast: 1925 SEK per night.
Arrival 16 November //Officially sold out, but check first with cecilia@ntif.se //
Alternative: Please find suitable accommodation in central Stockholm via your normal online booking site and enjoy the boat ride to the venue in the morning of 17 November.
Arrival 17 November //Officially sold out, but check first with cecilia@ntif.se //
Check out our venue Skepparholmen.
Covid 19
Regarding Covid19; to make you feel safe we are following the recommendations from the Swedish authorities. If you are not vaccinated, please make sure you follow local recommendations on keeping distance and stay at home if you have any symptoms. If the situation with Covid gets worse, we might require a negative test or vaccine pass, before attending.
Safety information from Skepparholmen:
Safe environment for our guests
Creating a safe environment for our guests and team members is very important to us. We wish to inform you of the actions and precautions we have taken to prevent the spreading of the Corona virus so that you as guest shall feel safe when you stay with us. Your health and well being is our highest priority.
We follow continually the guidelines provided from WHO and Folkhälsomyndigheten.
Our team members are in good health and we have updated our hygiene policies.
Cleaning routines in all departments have also been upgraded. All surfaces that come in contact with our guests are cleaned after a strict cleaning schedule and keycards are washed.
We have changed our serving routines in the restaurant by replacing buffets with plated service and there is even the possibility to order your breakfast packaged seperately.
The quality of the water in our pools has always had a very high standard with built in protection against virus via their own filters, chlorine and UV lights.