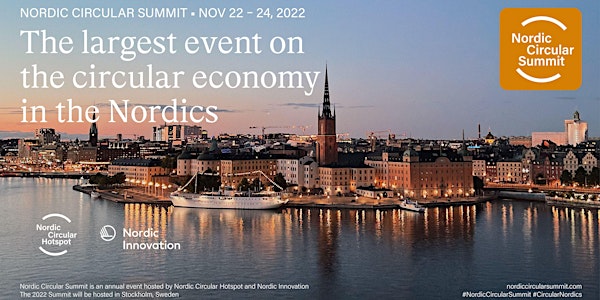 Nordic Circular Summit 2022
The Nordic Circular Summit is the largest event on circular economy in the Nordic region.
When and where
Location
Stadsgårdsterminalen 26 Stadshamnen 116 45 Södermalm Sweden
About this event
Please note – this registration (via Evenbrite) is for participation at the physical conference in Stockholm 22–24 November 2022. If you plan to attend online, then please register for the online stream (see link below).
The Nordic Circular Summit is a hybrid summit exploring the circular economy in the Nordic region, hosted by Nordic Circular Hotspot and Nordic Innovation. Join us to learn about the region's tremendous circular opportunities—with events offering talks, debates, panel discussions and workshops on topics such as circular tools, regenerative models and materials, communicating circularity, business and finance, energy and resources, construction, manufacturing and much more.
The Nordic Circular Summit was first hosted in Oslo in 2020, followed by 2021 in Copenhagen. The 2022 Summit is located in Stockholm, spearheaded by NCH Managing Partner, Cradlenet.
Day 1
Main session: The New Nordics: Learning from Crises What can we learn from global crises, and how can we build more resilient systems and societies for the future?
Parallel side sessions: Circular Resources for the Renewable Transition, Resilient Local Societies – Sustainable Place Economy, Behavioural Economics – Crisis Driving Change
Day 2
Main session: The State of Transition What does the changing landscape of our economy look like today?
Parallel side sessions: Financing Circular Business Models, Swedish Approach to Circularity, Quest for Clarity – Branding and Communicating Circularity
Day 3
Main session: The Future Regenerative Market Are we ready to build the next generation economy with circular principles?
Parallel side sessions: Regenerative Models and Materials, Circular Tools – Sustaining Natural Value, Circular Future of the Nordics
There will also be a multitude of fantastic partner sessions every day. Read the full program and more about the Summit here: www.nordiccircularsummit.com
Welcome!
If you wish to attend online, then please register here: https://app.myonvent.com/event/nordic-circular-summit