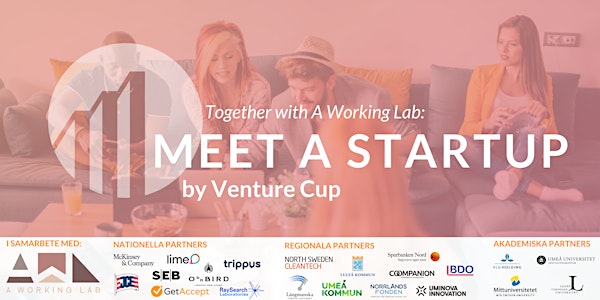 Meet a Startup - Entrepreneurship, Ideas & personal development!
Meet a Startup - Venture Cup gives you the opportunity! A community event about entrepreneurship, innovation and finding inspiration.
When and where
Location
A Working Lab Universum Umeå 8 Universums gränd 907 36 Umeå Sweden
About this event
Venture Cup is all about getting out of your comfort zone. Now we want to help you!
Build new connections, talk entrepreneurship and give as well as receive new inspiration!
Guest: Ida Hillebjörk, entrepreneur & driving force behind UmeCom
Learn how Ida Hillebjörk, contributes to a more sustainable society. What are her driving forces and why is she doing this? Come and join us to hear more about Idas experiences, successes and failures. Ask your questions and share your thoughts.
Are you walking around with an idea but don´ t know where to start? Want to practice your networking skills and improve your personal pitch? Interested in entrepreneurship and would like to learn more? Come and visit us and other likeminded people at Meet a Startup.
At every meet there will be enough time to practice your own pitch in front of the group, if you wish to do that.
We offer you a safe and uplifting environment with insights from entrepreneurs and startup founders as well as the group so that you get the necessary tools to improve and grow in your own personal way.
It is all about your mindset - dare to be vulnerable, have an open mind and be willing to lift your colleagues. You won´ t be alone!
Some snacks & non-alcoholic drinks will be offered.