Det här eventet har avslutats.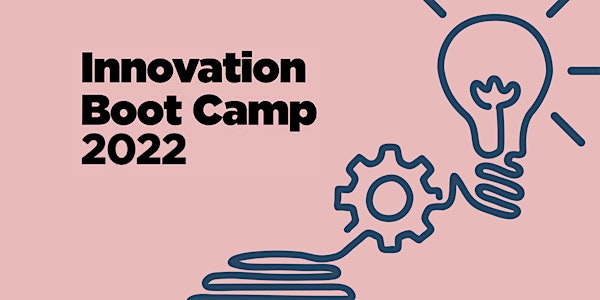 Innovation Boot Camp 2022
Innovation Boot Camp is a four day event where you develop a business idea together with a multiskilled team and help from business coaches.
Tid och plats
Plats
A Working Lab Universum Umeå 8 Universums gränd 907 36 Umeå Sweden
Eventdetaljer
Do you want to solve real problems that the world and its citizens are facing, while having the chance to win a prize to a value of 10 000 SEK?
Then Innovation Boot Camp 2022 is the event for you.
Any tax on the prizes that may occur, is paid by the winners.
Sign up before sunday 20 March and have the chance to win a Moccamaster!
Come alone or bring your friends, roll up your sleeves and solve real problems and challenges during an intense and FUN weekend!
A team can consist of maximum five participants.
💡 If you have a business idea, you can sign up yourself and/or together with your team.
💡 If you don't have a business idea yet, don't worry! You can sign up yourself or together with friends. If you are less then 5 people in the team, we will partner you up with other participants.
We are convinced that the best ideas are created when people with different skills, experiences and backgrounds meet and combine their unique perspectives! Take this opportunity to strengthen your network.
Innovation Boot Camp is a four-day event packed with inspiration, interesting people, and coaching from professional business coaches. It is a time to focus and work on your already existing or new business idea together with a group of people with different skills and knowledge.
Place: The program will be held at A Working Lab in Universum, on campus.
Deadline for signing up: Sunday 27/3
We strongly recommend you sign up as soon as possible. Don't miss out on this opportunity!
Information about prizes for the winners will be announced shortly!
Schedule for the event
Tuesday 29/3 - Bonding and idea generation!
Time: 15.00 - 18.00
Innovation Boot Camp starts off lightly with a teambuilding and idea generation workshop, in order for you to have time to decide upon an idea before the boot camp weekend begins!
• Meet and bond with your team, as well as other fellow Innovation Boot Camp participants
• Release your creative juices and generate awesome ideas together with your new team!
All teams will participate in team building activities and are offered inspiration and insights that will be valuable during the Boot Camp!
The teams who already have business ideas, will work with idea and opportunity generation.
Saturday 2/4 - Let the boot camp begin!
Time: 10.00 - 17.00
• Morning: Introduction to the boot camp weekend; useful tools for structuring, developing and presenting/pitching your idea; inspiration; etc.
• Lunch - on the house!
• Afternoon: You and your team work on your business idea with input and guidance from our business coaches
Sunday 3/4 - Blood, sweat and tears!
Time: 9.00 - 17.00
A whole day that you and your team have dedicated to the progress of your business idea and solving that initial problem or need. Business coaches will be present during the day.
You will also recieve support and help on how to put together an excellent pitch for the final event! Lunch and fika will be included!
Tuesday 5/4 - Pitch and celebration!
Time: 15.00 - 18.00
During this final day of Innovation Boot Camp, we will all focus on having fun! All teams gets to pitch and get feedback on their ideas, there will be a mingle with snacks and (alcohol-free) drinks, and we will present the lucky winners of the boot camp!
Questions?
Get in touch with us!
- Ellenor Koppari at Umeå University Innovation Office
Email: ellenor.koppari@umuholding.se
Phone: +46 70-524 00 97
- Maja Bjuggstam at Coompanion Västerbotten
Email: maja.bjuggstam@coompanion.se
Phone: +46 761279327
- Rehman Amin at Coompanion Västerbotten
Email: rehman.amin@coompanion.se
Phone: +46 73 706 78 18
As there are a lot of resources going into this event, it is important that you as a participant can attend all four days.
IMPORTANT
If you sign up for the event but end up getting symptoms that could be related to Covid-19, before or during the event, tell your team and join them through a digital channel instead of being physically present.
Who are we then, who organise this event?
Well, we like to think of ourselves as your multiskilled support team who will be there to guide you and cheer you on. We all work with different aspects of business development, to support and spur new ideas, innovations and entrepreneurs.
The Innovation Office at Umeå University and Coompanion Västerbotten, organise the event together with multiple partners from Umeå's innovation support system.
Contact any of us if you are interested and want to know more about what we do!
When you sign up for this event or contact us in another matter, by phone or e-mail, it means that we process your personal information in order to administer, offer and adapt our services to you. We do this under complete confidentiality, which you can read more about on our website http://www.umuholding.se/privacy/.