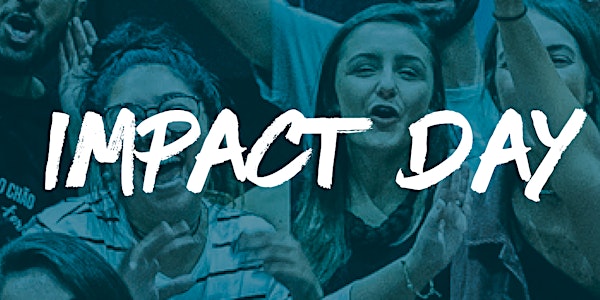 Impact Day
Welcome to a day of inspiration, co-creation, networking, and knowledge sharing
Date and time
Tuesday, November 8, 2022 · 8:30am - 6pm CET
Location
Impact Hub Stockholm Jakobsbergsgatan 22 111 44 Norrmalm Sweden
About this event
Come and sit with us on November 8th - one day each month when Impact Hub Stockholm holds an open ouse for you to work, get inspired, and connect with new faces to enable collaborations for impact.
Impact Day happens once every month. Join us to to switch your work environment for the day, listen in to interesting discussions, access business coaching and mingle with inspiring purpose-driven people in our network.
Why we do it? To advance our mission to inspire, connect and enable collaborations, and to engage actors from the public and private sector, academia, and NGOs, as well as big and small businesses in exciting and important conversations that can multiply their impact.
The day includes:
Breakfast
Free seating at our coworking space
On-site business advice
Inspirational talks
Feedback Forum
Roundtable discussions
Networking opportunities
…and more!
We invited Jan Gunnarsson, author and speaker on creating inclusive and welcoming organisations and societies. Jan will share his insights on how we as individuals can achieve more success in work and life by cultivating a welcoming mind and behaviour.
Sign up for Feedback Forum, an intimate and honest conversation among 5-7 participants, where all raise one critical issue they want to find practical solutions - session hosted by the social entrepreneur and Impact Hub partner, Amir Sajadi.
How can we cope with commonly occurring perceptions about conflict? Join Kjell Jacobsson, founder of Prime Coach Kjell who will host a round table on conflicts and offer some tools and tricks on how one can act! Kjell has been an Impact Hub member since 2010, and has long experience working with the public sector before starting his company in the early 90s.
People and organisations powered by why they do what they do make a world of difference – to buy from, work for and partner with. Still trying to figure out your company's "Why" or need help to take it from words action with greater impact? You can pre-book a 45min one-on-one coaching session with Johnnie Mellström from Everyday, a strategic and creative accelerator for founders and organisations.
Are you an SME or an established company looking to grow? Book your one-on-one business advising session with Daniela Dimitrova from Almi Stockholm - who will be open for bookings throughout the day❗️
(To get a spot with Johnnie or Daniela, you can drop-in (if still spots left) or pre-book your one-on-one consultation by writing to stockholm@impacthub.net latest Sunday 6/11.)
Connect❇️
Wrap up the day and network during an interactive mingle session - hosted by a group of young innovative leaders from KAOSPILOT, a school for creative leadership and meaningful entrepreneurship.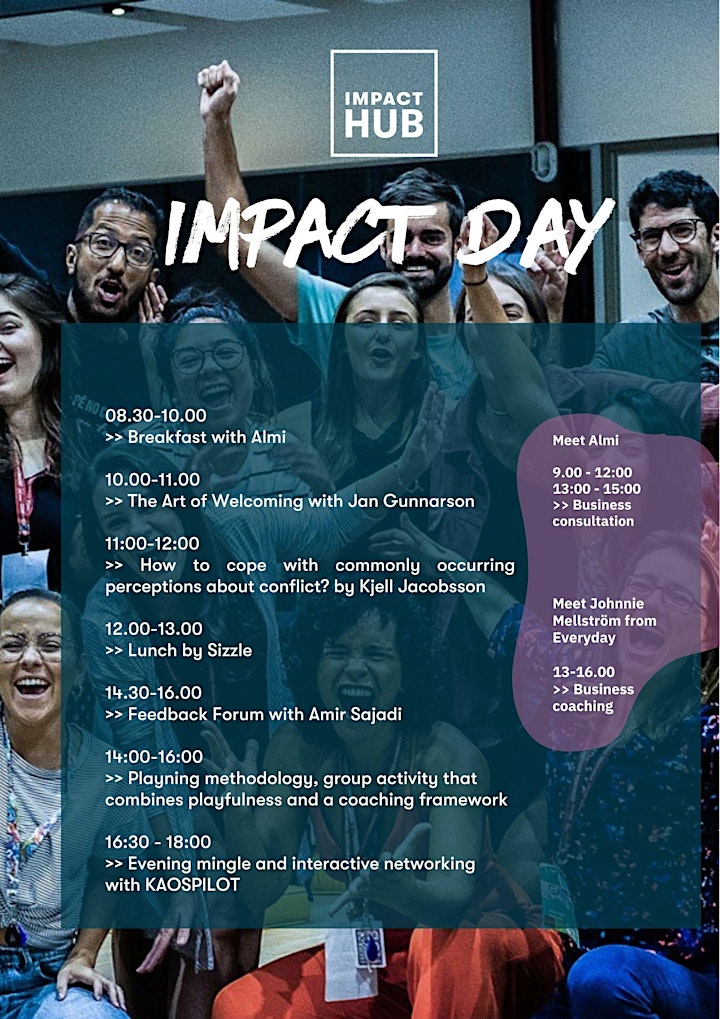 About the organizer
Climate change, inequality, and poverty can't wait. We need to drive change from all directions to meet the critical challenges that our world is facing. And to do it, we need to think differently. Join Sweden's first community space for social innovation. Through Trust, Courage and Collaboration, we are creating a better future for the generations to come. Become a member to join our local and global communities. Together we create change for a future that works for all.