Det här eventet har avslutats.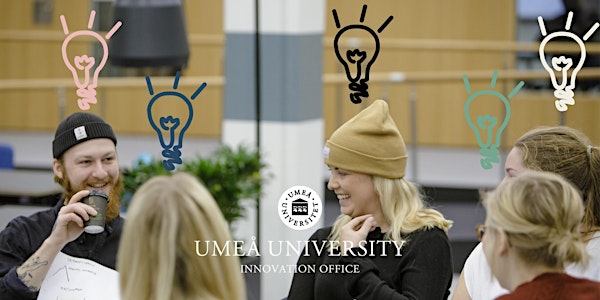 Idea Development Program - January
Learn how to realize your ideas successfully - without having to spend more than your time
Tid och plats
Plats
A Working Lab Universum Umeå 8 Universums gränd 907 36 Umeå Sweden
Eventdetaljer
Idea Development Program, autumn 2022
Learn how to create value - for yourself and others!
Have you been thinking about a business idea or project for a while, but need tools and support to realize your idea? Or are you simply curious and want to learn more about entrepreneurship? Regardless, the Innovation Office's Idea Development Program is for you.
The Idea Development Program is only open for University students and researchers at Umeå University and SLU, and is completely free of charge. The workshops will be held in English, unless all participants are Swedish speaking.
By participating in the program, you will...
Develop your creativity
Learn how to solve problems and make a difference
Strenghten your network
Gain experience and found for: your dream job, your dream company or a value creating organization
By receiving...
Practical education about entrepreneurship based on the latest research
Tools for developing your idea (business development)
A stronger CV with a diploma for participating in the program
Access to professional business coaching between the workshops, as well as afterwards
Opportunity to take your idea further with help from the Innovation Office after the program has ended
Date and time:
19/1 15.00 – 18.00
26/1 15.00 - 18.00
2/2- 1h personal feedback
9/2 - 15.00 - 18.00
23/2 15.00 – 18.00
9/3 15.00 – 18.00
Dates are preliminary and might change before start. More sessions might be run upon demand, so do not hesitate to get in touch if none of these sessions suits you.
Place
The program will be held physically at A Working Lab, Universum.
However, because of the ongoing restrictions and spread of infection, the first two sessions will be held digitally through Zoom. The other sessions could also be held through Zoom, depending on the situation.
Questions?
Get in touch with Ellenor Koppari at Umeå University Innovation Office
Email: ellenor.koppari@umuholding.se
Phone: +46 70-524 00 97
As there are a lot of resources going into this program, it is important that you as a participant can attend all five workshops and be active a few hours each week with your business development between each workshop.
Workshop arrangement
Workshop 1 – Introduction to the program and the loop method, problem/needs
• Chart your assets and develop your idea/generate new ideas using them
• Problem and needs – the foundation of your idea
• Create a lean canvas to get a good overview of your idea and develop it further
Workshop 2 – Target group, loop, and pivot
• Who is your customer? Segmenting and target group
• Loop (iterate) and pivot
• Develop questions and a strategy for beginning your looping (iteration)
Workshop 3 – Value proposition and business model
• The value proposition – creating value and benefits for your customer
• Business Model - how can you generate income based on your idea?
Workshop 4 – Competition, macro analysis and prototyping
• Who are your competitors, and how can you differentiate yourself from them?
• Minimum Viable Product - how can you develop a cheap prototype to further develop and sell your product?
• Trends, partnerships, channels and relationships
• How can you create a prototype / Minimum Viable Product (MVP) in order to receive feedback on your solution?
Workshop 5 - Value Creation Forum
• Learn how to pitch your idea using the NABC-model
• Value Creation Forum - give and receive feedback on each other's ideas and pitches
When you sign up for this event or contact us in another matter, by phone or e-mail, it means that we process your personal information in order to administer, offer and adapt our services to you. We do this under complete confidentiality, which you can read more about on our website http://www.umuholding.se/privacy/.