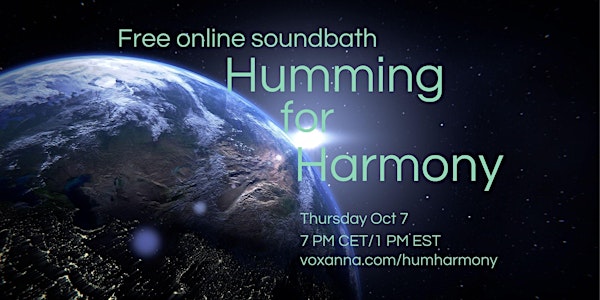 Humming for Harmony. Free Online Soundbath
Let's tune in to Harmony together & allow it to expand from our hearts! Soundbath with crystal singingbowls, LifeTones & guided humming
About this event
Harmony is in the air! Always present, at the core of everything in creation - even during these uncertain times! Let's tune in to this innate frequency together and allow it to create a wave of HARMONY over the planet!
Last time people from four different continents joined:
"Felt so good to be in your presence, hearing and feel your voice and instruments. I was deeply touched"
"…like bathing in Peace and Harmony"
"…very powerful. I loved the humming. And feeling it around the world"
"…so amazing to reach out to the whole world together with the humming"
I'll do a harmonising soundbath with crystal singing bowls & LifeTones, and guide you to use your own breath OR a simple & profound voice humming to experience and express harmony. It wants to flow through you and it's already there, inside of you - all it requires is your yes! It'll flow through you, for you and for the whole. When we allow it, it has the power to embrace & transmute any disharmony that might be residing within us.
HUMMING is a powerful & fun tool available to anyone who has a voice. It allows us to quickly connect with our true selves and our inner natural state of peace, love & joy. And to let it emanate, through sound!
Humming has been scientifically proven to reduce stress & calm the nervous system, release feel-good hormones, improve sleep, support the immune system and aid detoxifictaion.
NO PRIOR KNOWLEDGE is needed - it's super simple and I'll guide you through this process to unveil its gifts for you. You can rest in your breath for the whole session if you like. That's very powerful and as "good" as humming along! You follow what resonates for you in the moment.
AFTER THIS SOUNDBATH you'll have a potent tool that's always available for you to quickly reduce stress, connect to your heart and allow your innate harmony to expand.
Read more at voxanna.com/humharmony
Click here to receive a gift: LifeTones for Harmony (downloadable soundfile)
Thank you for co-creating this wave of Harmony over the planet!
~ ~ ~ ~ ~ ~ ~ ~ ~ ~ ~ ~ ~ ~ ~ ~ ~ ~ ~ ~ ~ ~ ~ ~ ~ ~ ~ ~ ~ ~ ~ ~ ~ ~ ~ ~ ~ ~ ~ ~ ~ ~ ~ ~ ~ ~ ~ ~
ABOUT ANNA KOLLBERG, VOXANNA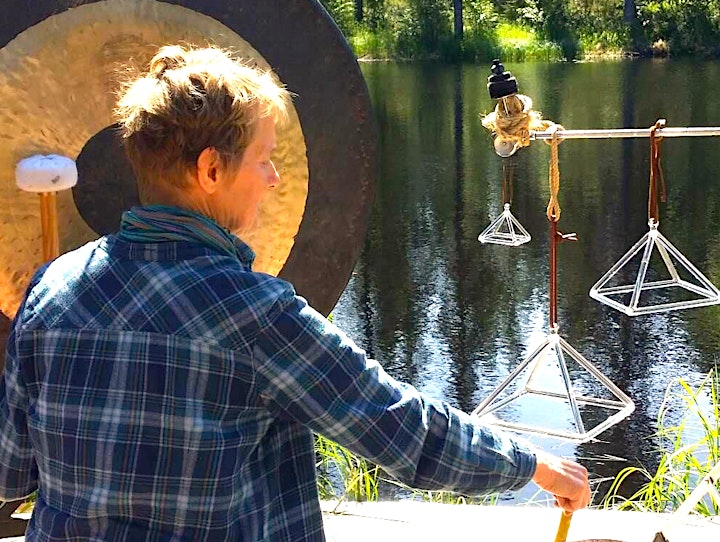 Anna is a voice & sound artist and alchemist. She assists with vibrations as a bridge to your heart. They tune your system to your innate state of harmony - to who you truly are. Whole & complete here & now!
Anna hears the song of harmony within all of creation, and she shares it through LifeTones (voice tonings) & sound. That's her contribution to a world where we are at home within ourselves and allow the beauty of the world to be created inside out. Playfully and in harmony with the voice of the heart!
Anna discovered the power of her voice on her own healing journey. Today, people come to VoxAnna from all over the world to receive their own unique LifeTones, to harmonise, to activate dormant potential and integrate new consciousness.
VoxAnna assists through private sessions, retreats & programmes, online and in person (mostly in northern Sweden). VoxAnna also develops multimedia for new consciousness.
Read more at voxanna.com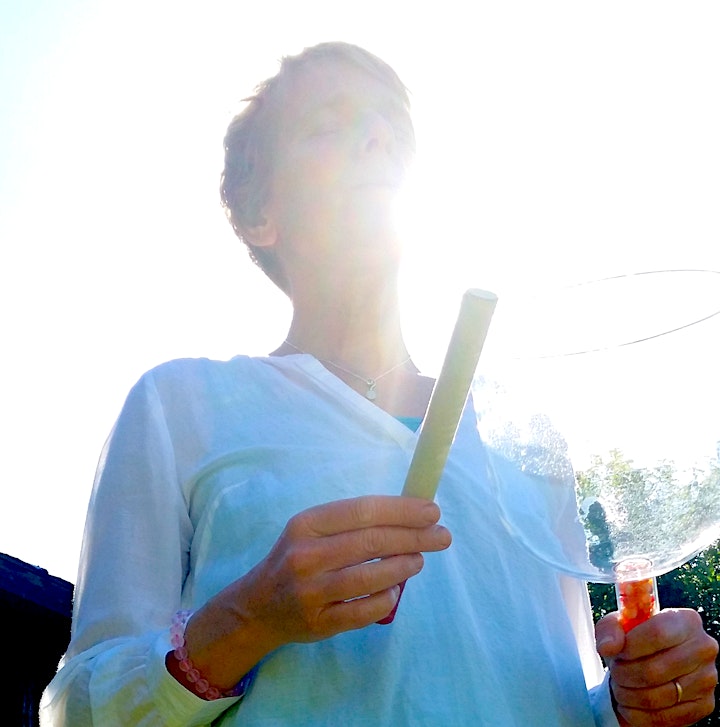 THIS EVENT WAS INSPIRED BY HARMONY FOR HUMANITY
- a free online celebration on the United Nation's day, October 24th 2021. I have the honour of representing Sweden in this vibrant event hosted by Golden Heart Wisdom! Read more at https://goldenheartwisdom.com/en/harmony-for-humanity/