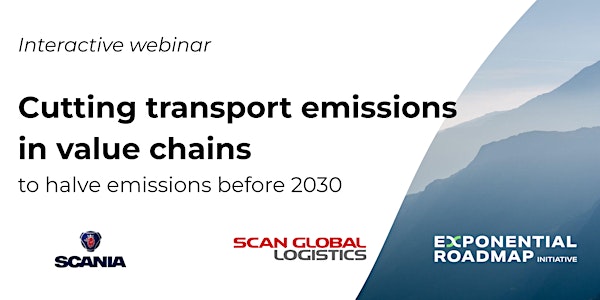 How to cut transport emissions in value chains to halve emissions by 2030
How can transport emissions be halved before 2030 by combining solutions?
About this event
Join this interactive webinar, focusing on cutting transport emissions in value chains. Hear from industry leaders Scan Global Logistics and Scania, as we discuss how to accelerate scope 3 emission mitigation in transportation, by highlighting leading methods, open tools and strategies.
The webinar will focus on calculating data of transportation emissions, providing a full overview of scope 3 emissions from transportation in order to help companies:
i. Get an overview of where emissions are located
ii. Help them reduce emissions through concrete action
We aim to encourage the shift to sustainable alternatives and highlight that the transition is possible in the short term (2022-2025).
Invite your relevant colleagues in transportation and supply chain who would be keen to discuss challenges and potentially identify opportunities for further collaboration.
Link for webinar: https://zoom.us/j/7721120533