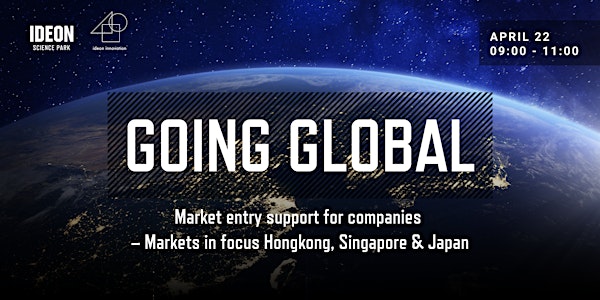 Going Global - Hongkong, Singapore & Japan
Ready for Hongkong, Singapore and Japan?
About this event
Welcome to Going Global Session with Ideon Science Park and Ideon Innovation.
During this morning session, you will get a guide on how to enter the markets in Hongkong, Japan and Singapore.
Take the right steps with guidance from companies and organizations with experience in these markets.
How do I start? Entrepreneurs will share their stories.
The panel of experts: Business Sweden, Nordic Innovation House, Invest in Hongkong and Japan External Trade Organiszation .
08.50 The Digital doors open
PROGRAM
09.00 - 09.45 The Hongkong market
What is typical of the Hongkong market?
Linda Bradley, Business Sweden, Hongkong/Greater Bay Area
Where is the best market potential? And how do I find business partners?
Linda will talk about Hongkong, south China and the region's business potential for fast-growing companies that are aiming to go international and enter the most relevant Asian markets. Linda has for the past 15 years worked with international business in the region – in real-estate/architecture, technology and design/lifestyle. She will talk about hands-on experience how to achieve sales and investments, current business opportunities for Ideon's companies, navigating in uncertain times, and how her consultant team can support your company. Looking forward to meet everybody!
How do I find the best advice regarding investments?
Mats Gerlam, Invest Hongkong. Mats Gerlam started up Invest Hong's Nordic office in 2003 and is based in Göteborg. Invest Hong Kong was established in 2000 by the Government of the Hong Kong Special Administrative Region to spearhead Hong Kong's efforts to attract inward investment. Invest Hong Kong offers solution-oriented investment promotion, facilitation, and after-care services to ensure that companies have all the support required to establish or expand operations in Hong Kong. All services are free of charge. Mats will during the webinar present more about the z and their services. He will also give some examples of companies that have been assisted and present available startup programs.
The startup arena in Hongkong
Binh Johansson, NIH Nordic Innovation House Hongkong. Nordic Innovation House in Hongkong will not only connect you with the ecosystem in Hongkong but also in the Greater Bay Area. Their network will provide you with the right tools and resources from their tech hub in Hong Kong. With a successful international career spanning Europe, the US, and Asia, as well as a range of industries including venture capital, private banking, raw materials, and digital, Binh thrives the most when taking on significant responsibilities, managing cross-culture projects, and engaging with people.
Binh will talk about the cultural differences compared to Sweden. What to think of when going to Hongkong and their projects and programs in FinTech.
A Sucess Story - Yining Wang from Nordic Asia Group
Yining combines operational and financial skillsets and experiences. He is a Swedish- born Chinese with a unique link of trade/investments from Nordics to Asia and vice versa. Yining will take you on a journey of how he took his startup company from Stockholm via Hongkong to Shanghai.
09.45 – 10.10 The Singapore market
The startup climate in Singapore
Marcus Kuusinen, Senior Project Manager at Business Sweden, Singapore. Marcus will talk about the business climate in Singapore and how that may differ from Hongkong. What kind of Swedish products and services are demanded in Singapore?
Marcus will also talk about st startup support from NIH (Nordic Innovation House) in Singapore.
A Success Story - Johan Farneke from Greater Than
Johan set up his business in Singapore and will share his learnings and the best advice on how he uses Singapore as a hub.
10.10 – 11.00 The Japanese market
The Business Environment in Japan
Mr. Ito Yoshihiko, Director, Investment Team, JETRO London. Jetro (Japan External Trade Organization) is the trade agency of the Japanese government and is also behind the UNOPS GIC in Tokyo. Mr Yoshihiko will talk about the current situation of Japan's Business Environment, trends in the Japanese Startup Ecosystem, and JETRO's support for overseas startups to establish their business in Japan.
The startup arena in Tokyo
Niklas Karvonen, NIH Nordic Innovation House, Tokyo You will get an introduction to Nordic Innovation House Tokyo, and their services for Nordic startups and growth companies. They will also share their upcoming opportunities from Japan including upcoming global acceleration programs and challenges from Japan.
How to avoid shortfalls and common misunderstandings
Stefan Sandström, Manifestum Stefan is an expatriate Umebo, living in Japan for 14 years. His network in Japan includes the major life science clusters, has worked with over 40 of the 50 major pharma companies (closing deals with three of the five largest already this year). Stefan is actively working with several Japanese industry organizations. He has successfully supported a number of European companies to succeed in Japan.
Manifestum is a Sweden-based business consultancy with the major work being performed in Japan. Manifestum helps great European companies get access to and (increased) traction in Japan. Most common types of projects include setting up distribution, finding clients and setting up strategic partnerships. Manifestum works with trusted partners and their collective skills enable a wide range of support for projects in Japan.
Moderator: Zhenni Liang
Originally from China, Zhenni has studied and worked in Asia, South America, and Europe. She has made it her life mission to drive positive changes and contribute to the startup community so that ambitious entrepreneurs and innovators can flourish.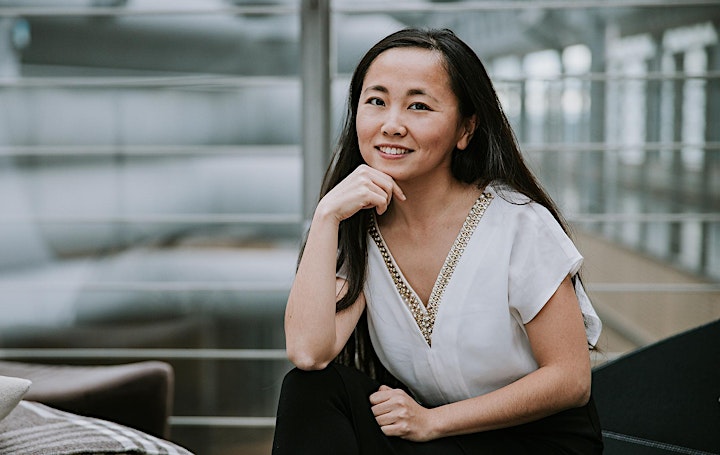 Going Global is supported by:
Does your company want to grow in an international market?
Exportcentrum Skåne is a collaboration in which Region Skåne and the Swedish Growth Agency (Tillväxtverket) are included with the aim of simplifying for companies to grow internationally.
Behind the Exportcentrum Skåne are the internationalization and export promotion actors – ALMI, Business Sweden, Exportkreditnämnden (EKN), Européan Enterprise Network (EEN) and Invest in Skåne.