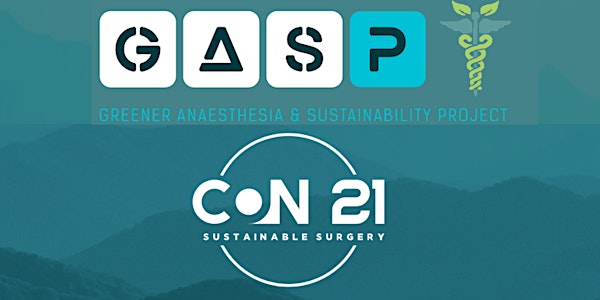 GASP Conference 2021 - Sustainable Surgery
The Greener Anaesthesia & Sustainability Project invite you to our first ever conference: GASP CoN 21 - Sustainable Surgery.
About this event
Join us online on October 11th 2021 9am - 6pm.
The day will include talks from experts in the field of sustainable healthcare including:
Prof. Hugh Montgomery
Prof. Jodi Sherman
Prof. Mahmood Bhutta
Dr. Tom Pierce
Miss Chantelle Rizan
Dr. Chris Allen
Mr Neil Allen
GASP CoN 21 is about sharing sustainable ideas that you can implement in your hospital.
We want to hear from you! Enter our poster competition and tell us what you and your team have done to enact sustainable change where you work. Email a 300 word abstract to gaspanaesthesia@gmail.com by September 30th 2021.
The top 5 posters will be chosen to be presented on the day and the top 3 win a cash prize.
1st Prize - £400
2nd Prize - £200
3rd Prize - £100
All posters will be uploaded to www.gaspanaesthesia.com where you can find out more about the conference and sustainable healthcare.
We are incredibly grateful to Great Ormond Street Hospital who will be hosting our online event. GOSH were the first hospital in London to declare a Climate and Health Emergency. We look forward to hearing more about this on the day.
We would also like to thank our sponsors below as it is thanks to them that we can hold this event for FREE for our delegates. We have carefully chosen our sponsors as we feel they are all providing positive solutions towards greener health systems.
To learn more about our sponsors please visit their websites below:
https://www.sagetechmedical.com/
https://www.medclair.com/
https://www.sharpsmart.co.uk/
https://www.vanguard.de/