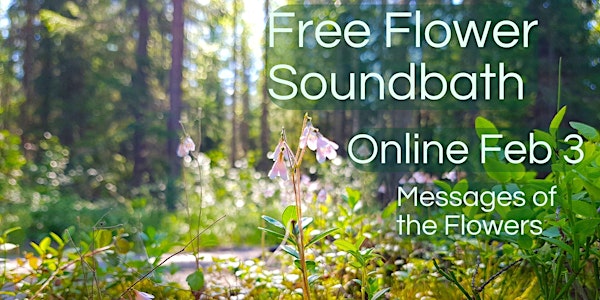 Free Flower Soundbath Online//Gratis klangbad inför Messages of the Flowers
Soundbath with LifeTones, crystal bowls & gong for your blooming ~ I'll share about the upcoming Messages of the Flowers journey
About this event
//**ENGLISH BELOW**//
Välkommen på ett gratis klangbad med blomstervibbar
Inför resan med Blommornas Budskap som börjar nästa vecka har jag fått frågor - här berättar jag mer och delar ett klangbad med kristallskålar, Livstoner, gong och andra harmoniserande & upplyftande instrument! Du ligger eller sitter hemma i ditt eget space och bara tar emot.
Blommornas Budskap är en upplevelse av det som sjunger i den Gröna Världen, i blommornas sfär. Den 7 februari startar nästa resa, som bjuder på en serie med Linneans Livstoner & Ljusljud. Linnéa bjuder in vars och ens egen inre blommas magi & skönhet att vakna, djupna och träda fram:
"…har gett mig frid och återkoppling till Den stora Kärleken" /Moa Koskelainen
"Beautiful and powerful in a way I had never expected" /Agnetha Blomberg MacCormack
Läs mer och provlyssna här
Nyfiken? Du är välkommen på klangbadet - känn in vibbarna och så berättar jag gärna lite mer om hur det funkar!
Anna Kollberg
VoxAnna.com
********************
//**ENGLISH**//
Welcome to a Soundbath with Flower Vibes
Many are curious of the sound journey Messages of Twinflower starting Feb 7th - and I'm getting questions. So here I'll share more about the Twinflower journey, and offer a soundbath with LifeTones, crystal singing bowls, gong and other uplifting instruments!
While I play, you sit or lie down comfortably in your space to receive the healing vibrations of the voice & sounds.
Messages of the Flowers is an experience of what's singing in The Green World, in the realm of the flowers. In the journey starting Feb 7th, I share a series of Twinflower LifeTones & LightSounds. Twinflower is inviting us to be touched in our hearts, to unveil the magic & wonder of our own inner Flower:
"Beautiful and powerful in a way I had never expected" /Agnetha Blomberg McCormack
"A connection to the essence of life. …it has given me peace and reconnection to The Great Love" /Moa Koskelainen
NO PRIOR EXPERIENCE is needed
LISTEN TO A TWINFLOWER TASTER and read more here
Curious? Welcome to the free soundbath - taste the vibes, and I'll be happy to share some more about how it works!
Anna Kollberg, voxanna.com
~ ~ ~ ~ ~ ~ ~ ~ ~ ~ ~ ~ ~ ~ ~ ~ ~ ~ ~ ~ ~ ~ ~ ~ ~ ~ ~ ~ ~ ~ ~ ~ ~ ~ ~ ~ ~ ~ ~ ~ ~ ~ ~ ~ ~ ~ ~ ~
ABOUT ANNA KOLLBERG, VOXANNA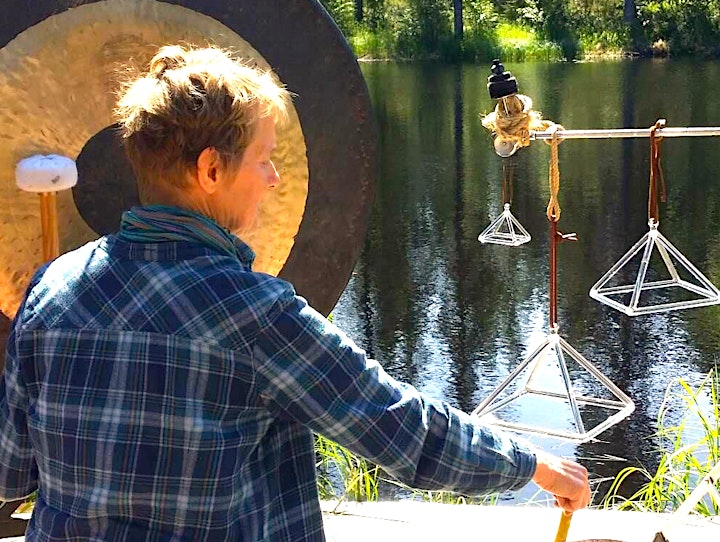 Anna is a voice & sound artist and alchemist. She assists with vibrations as a bridge to your heart. They tune your system to your innate state of harmony - to who you truly are. Whole & complete here & now!
Anna hears the song of harmony within all of creation, and she shares it through LifeTones (voice tonings) & sound. That's her contribution to a world where we are at home within ourselves and allow the beauty of the world to be created inside out. Playfully and in harmony with the voice of the heart!
Anna discovered the power of her voice on her own healing journey. Today, people come to VoxAnna from all over the world to receive their own unique LifeTones, to harmonise, to activate dormant potential and integrate new consciousness.
VoxAnna assists through private sessions, retreats & programmes, online and in person (mostly in northern Sweden). VoxAnna also develops multimedia for new consciousness.
Read more at voxanna.com