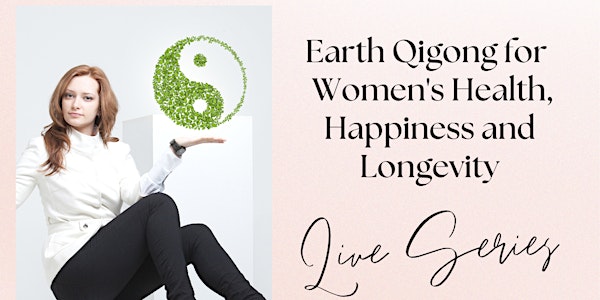 Multiple dates
Earth Qigong for Women's Health, Happiness and Longevity
Join to learn this women-specific Qi Gong set that is gentle and soft yet powerful that balances our feminine energy, spirit and emotions
Date and time
Tue, 7 Feb 2023 08:00 - Tue, 4 Apr 2023 08:40 PST
Refund Policy
Contact the organiser to request a refund.
About this event
A Qigong practice for women with a focus on female health.
This practice was developed and designed over nearly two thousand years to nourish the female organs, balance hormones and emotions and increase vitality and positive energy.
A woman's body naturally has deep, strong connections to the Earth's energy. And gathering the natural energy of the Earth into our energy centre, the Dan Tian, and into our pelvic area, literally and figuratively strengthens our creative space, out of which we can produce babies, relationships, careers and more. When our energy is not flowing enough or has some blockage in this area of the body, it can give rise to gynaecological and emotional problems.
Focusing on Qi cultivation in the Dan Tian and pelvic areas builds a healthy foundation that increases the flow of Earth energy through the meridian channels needed to support our needs through different periods of life.
This Qi Gong set works as a natural medicine that relies on the body's own power to heal. Focusing on moving the blood and generating female energy through a series of very gentle, conscious, graceful and easy-to-do Qi Gong movements, this Qi Gong set works by connecting the positive energy in all of a woman's internal organs and systems to improve or maintain their functions. It creates pelvic health which in turn helps women to balance their emotions as well as hormones.
The health and well-being benefits of this Qigong for Women routine :
improves the function of the kidneys, digestion and liver
increases circulation to the pelvic area
aids sexual health
settles the central nervous system
improves mental clarity
eases menstrual pain and discomfort
aids the management of menopausal symptoms
helps strengthen bladder control
This practice is suitable for women of all ages.
Spring Term: Starts 7th February 2023. Day/Time: Tuesday 17.00 - 17.45 CET
Term Duration 9 weeks
Class Duration: 45 minutes
Instructor: Clarissa Kristjansson
No experience needed. No equipment. Wear loose comfortable clothing. Barefoot, or socks.
About the organiser
Clarissa Kristjansson PhD is an internationally recognized menopause educator, and oriental medicine practitioner working with medical qigong, TCM nutrition therapy, mindfulness meditation and yoga nidra.
She is on a mission to support women to embrace 'Yang sheng' which means to nourish life – helping them to foster their own health and well-being by nurturing body, mind and spirit.

All her events focus on how to harness this powerful natural healing system to improve every aspect of your life and to experience how the practice of Yang Sheng restores balance to our lives.