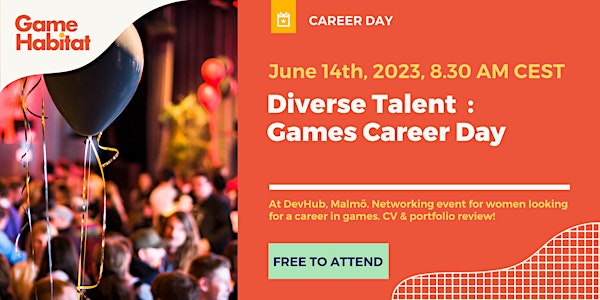 Diverse Talent | Games Career Day
Are you curious about a career in the games industry? Join us for some inspiration and networking with games industry representatives!
Datum och tid
ons 14 jun 2023 08:30 - 12:00 CEST
Plats
Game Habitat DevHub 2 Torggatan 211 40 Malmö Sweden
Eventdetaljer
3 timmar 30 minuter

Mobila eBiljetter
The games industry in southern Sweden needs more talent to build diverse, thriving teams to keep up with the pace of our growing industry.
Are you curious about what a career in the games industry could be like? Join us for a day of inspiration and networking with the south Swedish games industry!
......................................................................................................................................................
What: A day for women to get inspired to a career in the games industry and meet studio & education representatives!
Location: DevHub, Torggatan 2 Malmö
Date: Wed 14th June
Time: 8.30 - 12.00
Agenda:
8.30 - 9.30 : Breakfast and inspirational track with short talks about game industry roles
9.30 - 12.00: Job fair style - mingle in Atrium with studio & education representatives
9.30 - 12.00: Meeting rooms available (through pre-booking system) for 30 min interviews/meetings based on portfolio reviews available prior to event
Target audience:
Women* working in or looking to work in games
*including anyone who identifies as a woman, trans women, transitioning women, non-binary with the lived experience of being met & perceived as women.
/// PARTICIPATING COMPANIES
Sharkmob, Tarsier Studios, King, Massive Entertainment - A Ubisoft Studio, IO Interactive, Thunderful, Avalanche Studios Group, The Game Assembly Future Games
......................................................................................................................................................
On 14th June, we welcome women in southern Sweden to a day at DevHub - Game Habitat's co-working space for game development - where we focus on creating opportunities for increased inflow of women to the regional games industry! There'll be Inspirational talks about game career jobs, ways to enter the industry, breakfast and a mingle with studio representatives where you can talk to the people behind the studios and learn more about possibilities for YOU!
The games industry in southern Sweden is truly booming. The region is home to 7 of 10 of Sweden's largest game studios, as well as three of the world's largest game companies. Games based on some of the biggest brands in entertainment are developed in the region, such as Avatar, Star Wars, and James Bond. While, of course, a lot of completely new fun worlds and innovative games are thought up and developed here - in the big and small indie studios as well. South Sweden is already one of Europe's largest hubs for game development, with a major global impact, but it is expected to grow much more in the next few years..
But - we need more talent to keep up with the pace of our growing industry - and we need more diverse workforces in the studios working on all these amazing, creative game projects! We believe that there is a lot of untapped potential in the region looking at educational programs and other sectors that are not necessarily game specific - that could be a great source for talent for the growing games industry! A game studio includes a vast variety of positions crucial to a creative, well functioning and effective workplace - from management, law & day-to-day office life to communication, programming, design, production and event management!
Therefore, we invite you to this morning session where we hope to inspire more women to get excited about and get connections to the studios!
/// WHO ARE YOU?
We believe that you are a woman* working in or potentially looking to work in game development. Whether you have industry knowledge from work experience/education or not - this day can be a way to get connections for your future career path.
We also believe you are someone who never worked in game development, or even considered it. Maybe you work in tech/IT sector, HR, art, communication or events - but want to change the scene and use your skill in a new context? Maybe you study to become a project manager, producer, UX designer, system developer and think about which direction to go after graduation?
Great news - all of that is often needed in a game studio!
/// CV & PORTFOLIO REVIEW - maybe you'll find a match?
There is also an opportunity to send in your portfolio / CV for the studio recruiters to review prior to the event - and if there is a mutual interest you can have your first meeting on site during the event!
Follow this link to send in your documents:
👉 https://forms.gle/gbTbjpij7ua46dFS8
......................................................................................................................................................
Report | Introduction to Skills and Jobs in the Games Industry
Get a glimpse of ways to get into the industry in this report made in 2023 by Dataspelsbranschen here (download report in SWE or ENG).
Inspiration | Interview series #WeMakeGames
Scroll & find interviews with some people telling their stories about how they started working in games and what it's like here
Om arrangören
Game Habitat is the community and cluster organisation for game development in Malmö and southern Sweden. Our mission is to create the best possible environment for everyone and everything related to game development.
Our events are free and open to anyone who is interested in learning more about game development and meeting other game developers.