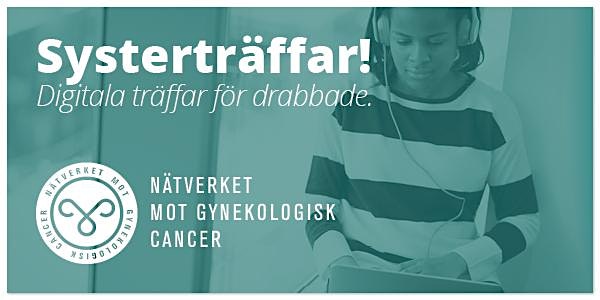 Digital Systerträff - Idas Sminkskola
Välkommen till Nätverket mot gynekologisk cancers Systerträff- Idas Sminkskola. Träffen är för dig som har/har haft gynekologisk cancer.
By Nätverket mot gynekologisk cancer
When and where
Date and time
Thursday, February 23 · 9:30 - 11am PST
About this event
Välkommen till Nätverket mot gynekologisk cancers Digitala Systerträff. Träffen riktar sig till dig som har/eller har haft gynekologisk cancer, och är medlem i Nätverket mot gynekologisk cancer. Ännu inte medlem? Bli det gratis här.
När; torsdag 23 februari klockan: 18.30- 20.00 (logga gärna in några minuter tidigare)
Var: Zoom
Det är kostnadsfritt att delta.
Nu är det äntligen dags att träffas igen! Och denna gång möts vi som har/eller har haft gynekologisk cancer. Vi möts på plattformen Zoom, och du kan delta via dator, surfplatta eller mobiltelefon.
Denna gång har vi äran att ha fantastiska Ida Nilsson som gäst. Ida är make-up artist och har jobbat med smink professionellt sedan 2011. Ida har själv gynekologisk cancer och beskriver smink som något fantastiskt roligt, kreativt och som faktiskt kan göra att man känner sig lite piggare när allt är som eländigast.
Du behöver inte ha några förkunskaper för att delta.
Du får mer gärna ha ditt eget smink bredvid dig så du kan prova de olika momenten och vi kommer att gå igenom bryn, fransar och ögonskugga för dagsmakeup. Vill du lära dig mer om lösögonfransar ha gärna dina egna nära till hands.
Det är även denna gång en helt kravlös träff, vill du bara vara med i gemenskapen utan att säga något är det helt okej.
Du behöver inte ha varit med på tidigare träffar!
Vill du vara med, anmäl dig senast 23/2 klockan 17.00. Du kommer under aktuell dag få en länk till träffen.
Har du funderingar, tveka inte att kontakta Alexandra Andersson på mejl alexandra@gyncancer.se
Hoppas vi ses!
/Nätverket mot gynekologisk cancer
About the organizer
Vi är ett nätverk av patienter, anhöriga och fler engagerade som sprider kunskap och skapar debatt om gynekologiska cancersjukdomar.
Vi stödjer kvinnor som drabbats genom att ställa högre krav på dagens hälso- och sjukvård. Vi vill att vården ska jobba mer aktivt med prevention. Vi vill att alla drabbade kvinnor ska få tillgång till en snabb och optimal vård och behandling. Och vi vill att Du som kvinna ska lära dig hur Du kan skydda dig, sköta om dig, din kropp och ditt underliv.
Följ oss i våra sociala kanaler! Facebook. Instagram, Youtube och vår podd Gyncancerpodden. Gilla, kommentera och dela gärna våra inlägg – tillsammans sprider vi kunskap!"
Konto: Bg 803-2229
Swish: 1230297762
Kontakt: info@gyncancer.se