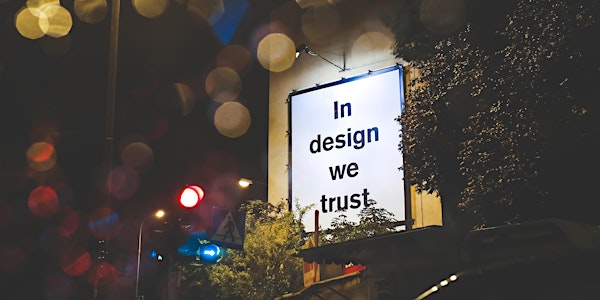 Design Leadership Community #3
When and where
Location
IRM Consult AB Garvargatan 9C 112 21 Kungsholmen Sweden
Description
Design Leadership Community
A community for people who work with or are interested in design leadership
We are proud to present three talks that will focus on the area of Enterprise Design. As a follow-up to the recent Intersection conference held in Prague we are excited to have three guests from Germany to share their insights. Together with the Swedish creators of the Milky Way model we hope these talks will provide some interesting perspectives for design leaders to consider when taking your design organization to the next level.


#1 The Design Leadership Framework - Katharina Weber
The topics of Design Leadership and Design Operations are currently very popular due to the still increasing need of companies to deliver great customer experiences and become design-driven organizations. This has been leading to companies hiring or acquiring a large number of designers in the recent years. But many companies struggle to really unite these new design »forces« to deliver a holistic end-to-end experience. Comparing the still emerging discipline of Design Leadership to other more established areas such as IT Management, it becomes apparent that Design Leadership could profit from a concise overview or design leadership framework that shows what the discipline encompasses.


#2 Enterprise Design Framework V3 - Milan Guenther & Benjamin Falke
Are you designing an innovative product or service, reshaping a complex organization, or launching a breakthrough startup? Then you are probably facing what we call a Strategic Enterprise Design challenge: you are about to engage in an ambitious endeavour, seeking to achieve an outcome with a visible impact on reality. New customers or markets, better and leaner service delivery, engaged and productive staff or a fitting and visible brand might be among your list of intents.
The Enterprise Design Framework is a set of tools to help enterprises realize the extraordinary contribution of design and architecture fields to the success of your enterprise, aligning and linking relevant conceptual and creative domains.
#3 Enterprise Maps to Navigate Complexity - Annika Klyver & Cecilia Nordén
We started in our domain, architecture, but have expanded our territory into the external eco system as well as in to the product and service ecosystems as well as organisational design. What we have found is a shared enterprise map that is stable but still is able to carry the increased complexity given the accelerated change rate needed to survive and thrive in the business environment.

We will share our journey into the complexity of an enterprise and show how an enterprise map, The Milky Way, gave us a solid foundation on which we build a better understanding of how all parts of the enterprise collaborate to embrace innovation, generate customer value and safeguard an understanding of what needs to be improved throughout an organization and why.

Event starts at 17.00 and ends at 20.00.
Talks starts at 17.30 and ends at 19.30.
The event is free of charge, but to reduce the number of 'no-shows', if you register for the event and cancel after 22:00 on the 8th of October a 500kr fee will be charged.
A huge thanks to IRM Consult AB who sponsor the event with wraps, beverages & venue.
This is not a forum for observation only. This meetup will require active participation and interaction as a tool for learning. So please no selling your products or services.
Welcome - Christopher and Jens