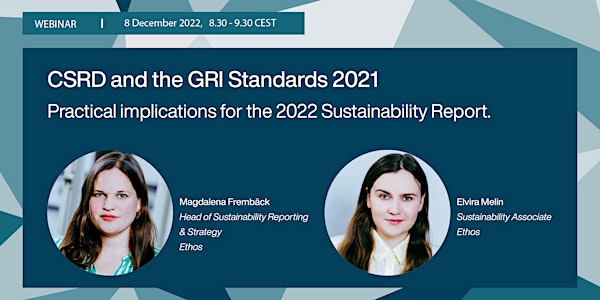 Biljettförsäljning tar slut snart
CSRD & GRI Standards 2021 – Implications for the 2022 Sustainability Report
This webinar aims to introduce the key updates in CSRD, ESRS & GRI Standards 2021, & leave you with a practical toolbox for the 2022 report.
Eventdetaljer
A few weeks ago, the EU parliament adopted the Corporate Sustainability Reporting Directive (CSRD), which will replace the current Non-Financial Reporting Directive (NFRD) in 2024. By implementing the CSRD, the EU intends to make ambitious, standardised and accessible sustainability reporting mandatory for more than 49,000 companies across the EU. CSRD will imply big changes for sustainability reporting, where one of the key developments is that it will be mandatory to report in accordance with a standard - the European Sustainability Reporting Standards (ESRS).
Simultaneously, the GRI Standards - one of the most used sustainability reporting standards today – have been updated. The updated version of the standards requires some changes for companies reporting in accordance with the GRI, but luckily, this can help companies in preparing for the upcoming CSRD.
As the 2022 sustainability report is well underway, it is a good time to understand and incorporate some of the coming requirements, ensuring a smooth transition to the coming legislation.
This webinar aims to introduce the key updates in CSRD, ESRS and GRI Standards 2021, and leave you with a practical toolbox for what you can focus on for the sustainability report for 2022.
Who should join
The requirements for sustainability reporting will be critical for both EU and non-EU companies and their license to operate. The webinar will focus on practical implications for this reporting season, relevant to companies that have long experience in sustainability reporting, as well as smaller companies that are starting their reporting journey.
Speakers
The webinar will be hosted by Magdalena Frembäck, Head of Sustainability Reporting and Strategy and Elvira Melin, Sustainability Associate.
Biljettförsäljning tar slut snart