Communicating the Past - Conference, Athens 2022
Location
Library & Information Centre of Panteion University
136, Syngrou av.
176 71 Athina
Greece
Refund policy
Refunds up to 30 days before event
Eventbrite's fee is nonrefundable.
Communicating the Past - Museum Theatre & Live Interpretation Conference in Athens, Greece, 20&21 May 2022
About this event
Organised by International Museum Theatre Alliance/IMTAL-Europe and the Panteion University of Social and Political Sciences/Dept. of Communication, Media and Culture (with support from Heterotopia).
#ComPast will bring together people who want to share and extend their knowledge of how live interpretation and museum theatre are used to interpret the past in museums and at heritage sites.
Join us for two days of presentations and workshops - with an optional excursion on the third day - as we explore the latest research from the field and exchange best practice examples and experience from across the sector.
Conference Themes
• The basics of museum theatre
• Content and representation
• Crisis, change and remaining relevant
• New formats & technologies
Scroll down here for FAQs and conference programme
More information and news updates at www.imtal-europe.org
Ticket price includes 1-year (2022) trial membership of IMTAL
We look forward to seeing you!
What do we mean when we talk about 'museum theatre' and 'live interpretation'?
Live Interpretation
A broad term used to cover any live interaction between museum / site representatives (i.e. staff, volunteers, partners, etc.) and visitors. This includes many living history-type activities - ranging from non-costumed demonstrations of historical craft to storytelling and costumed first- and third-person interpretation - but the term is also used to refer to activities such as guided tours, education workshops, theatre performances and demonstrations.
Museum Theatre
A specific kind of interpretation that employs fictional activity to communicate ideas, facts and concepts. A museum theatre performer assumes the role of a character (as a solo gallery character, an interpreter or as part of a play or scenario) in order to entertain and educate visitors. They take on the role of a particular character in a particular circumstance in order to help visitors appreciate and understand the story in hand and, through that, some aspect of the host museum or site.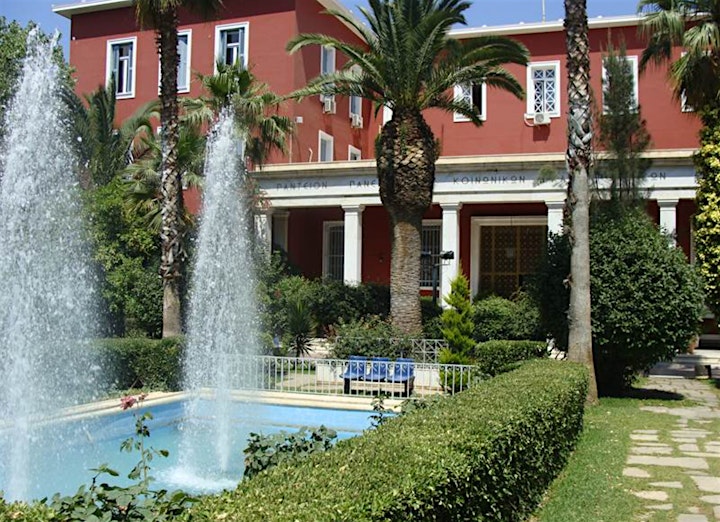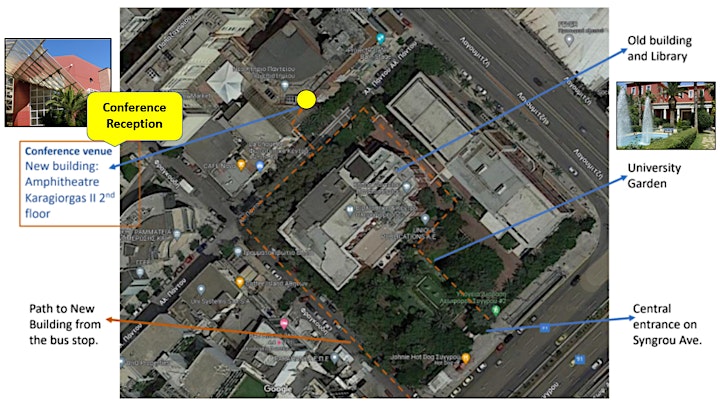 ComPast Conference – Important Information and Frequently Asked Questions
Information about COVID-19
Restrictions have recently relaxed here in Greece, but please remain cautious throughout your trip so as to reduce the spread of the virus. Updated guidance can be found at travel.gov.gr, but please note that:
face coverings are still widely used in educational establishments, closed/indoor areas, and on public transport;
visitors entering Greece are no longer required to provide proof of their Covid 19 status or to fill in a Passenger Locator Form prior to arrival.
How do I register for the conference?
We are using the Eventbrite platform to manage the registration process. We may have a small number of additional conference and/or excursion tickets available to purchase 'on the door', but we cannot guarantee this.
What is included in the cost of my registration?
You will receive a name badge and program at the conference registration/welcome. With your name badge you have access to all aspects of the event except the final excursion day on Sunday 22/05 (this requires a separate, additional ticket which is also available to purchase here via Eventbrite). For those who are not already members of IMTAL, the ticket price also includes a 1-year (2022) trial membership.
Are meals included with my registration?
Yes, the following meals and refreshments are provided as part of the event:
A light lunch on Friday and Saturday
Dinner on Friday night
(for those attending the excursion day) Lunch on Sunday.
In addition, the usual teas and coffees will be available daily during the conference.
There is no cash bar or canteen onsite, but there are many bakeries, cafes and delis around the university campus (and we will very happily help you find your way around).
If you have any specific dietary requirements or allergies, please let us know.
Can I cancel my registration?
To cancel your registration, contact us at: compast@panteion.gr
We are unable, at any time, to refund the booking fees associated with the sale of your ticket, as these are handled by the Eventbrite platform, but we will refund the full cost of your ticket as per our 30-day refund policy. Please be aware that no refunds can be given after April 19th, for either the conference or the excursion day, unless the event is cancelled by us.
Who are the event organisers?
The ComPast conference is organised by the International Museum Theatre Alliance/IMTAL-Europe and the Panteion University of Social and Political Sciences/Dept. of Communication, Media and Culture. The event is also supported by Heterotopia, an Athens-based museum theatre and live interpretation group, who are providing administrative support.
Where will the event be held?
The Conference will be hosted at Panteion University of Social and Political Sciences in Athens.
Google Maps link: https://goo.gl/maps/xUYLp3TxobqwtMHs8
There are ramp pathways, elevators and accessible toilets across the campus.
Exact amphitheatre and meeting room numbers can be found on the conference programme (below).
How can I get to and from the event?
The Panteion University campus - 136 Syngrou Avenue - sits between Lagoumitzi Avenue and Frangoudi Street, on the edge of the Kalithea and Koukaki districts of Athens, close to Stegi - the Onassis cultural centre.
By car: there are no university parking areas available to conference attendees, and it is hard to find a parking spot nearby, but the local area has several private car park services (these are best found and compared via Google Maps – link above). Taxi journeys can be booked in advance using the BEAT and UBER apps. In Greece it is also common to hail a taxi on the street.
Public Transport: Panteion University can be reached in under 15mins on foot from either the Syngrou Fix or Neos Kosmos metro and tram stations. It is also well served by the city's bus and trolley networks at the nearby PANTEIOS / ΠΑΝΤΕΙΟΣ bus stop. You can find lots of useful information at www.athenstransport.com/english - including timetables and routes.
Where can I stay during the event?
There is a very large variety of reasonably priced hotels or Airbnb apartments within walking distance from Panteion University. Check out the area along Syngrou Avenue and the neighbourhoods of Koukaki and Neos Kosmos.
Some parts of the Petralona, Kalithea and Nea Smyrni areas/districts are also within easy reach of the university, but be sure to check the distance or transport links before you book.
Preferential conference rates at the Athenian Montaza Hotel (https://montaza.gr/)
You can make your booking directly through the hotel's online system, and using the following discount code:
Enter website https://montaza.reserve-online.net/
Click Booking Code on top of the page
Enter the booking code PANTEION 2022
Proceed with instructions needed (dates, room type, number of guests etc)
After completing the reservation procedure, guests will receive an email with the confirmation of their booking.
Arriving in Athens
Getting to and from the airport takes around 40 to 60 minutes, depending on the time of day and your choice of transportation. The shuttle bus is around 6€ each way, the metro/train is around 10€ each way, and a taxi ride ranges from 40€ (during the day) and 60€ (at night).
Lots of useful information and links can be found at: https://athens-international-airport.com/airport-transfer-to-city/
Scroll down here to see the conference programme
If you have any questions at all, please get in touch with us at: compast@panteion.gr
The ComPast organising committee.