Joakim tells us the honest story of the in-house audio team at Hazelight, coming together, working, challenges and happy accidents.
About this event
Exciting news!
Joakim Enigk Sjöberg, Technical Sound Designer at Hazelight Studios is our special guest speaker at this seasons third Friday Stories!
In this open-ended session Joakim aims to tell the story of the in-house audio team at Hazelight and the circumstances at play when they banded together to create the soundscape of a game unlike one any of them had encountered before. Attendees can expect an honest and intimate retelling of the team's challenges, choices, happy accidents and realizations about their own work as they spent two years learning as they went.
A little bit more about the Speaker:
Joakim Enigk Sjöberg sprung into the industry as an audio professional after having finished his studies in the year of 2014. With the goal of combining his passion for audio with his lifelong hobby of video games he spent a few years in the bustling VR scene of Stockholm before joining Hazelight in 2019 - an event which put him on the amazing ride that was It Takes Two. His work as a Technical Sound Designer supports an equal love of the technical and the creative process of empowering games by means of sound.
Learn more about Joakim's thoughts over at our blog!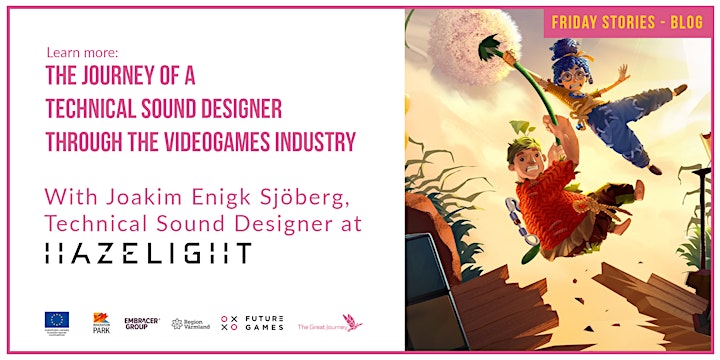 Get first in line to the limited Q&A-tickets, subscribe to our newsletter!
Friday Stories
👉 What's in it for me? Get inspired by interesting talks from industry people. Network and meet both local and national game devs and others from the games and experience industry.
👉 What is it? A unique talk +Q&A session series. For five Fridays during this fall you're welcome to join and get insights from industry thought leaders, people with ideas and experience from working with them.
👉 Why? Our goal is to inspire students and game developers to make games by introducing them to industry professionals. A knowledge and skills transfer where game industry professionals host workshops on both narrative and inclusive game design. This is a collaboration between The Great Journey and Futuregames together with the industry to bring lectures and workshops around meaningful topics like diversity and inclusive game design.
Organizer of Friday Stories with Hazelight | Joakim Enigk Sjöberg, Tech Sound Designer