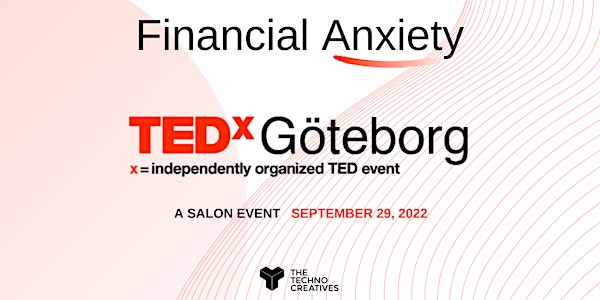 TEDxGöteborg Salon - Anxiety & Finances
Join us for an inspiring & critical discussion about two urgent concepts - Anxiety & Finances.
When and where
Location
The Techno Creatives Kämpegatan 10 411 04 Göteborg Sweden
About this event
Anxiety can take on different forms and is triggered by various things. Everyone will experience feelings of anxiety at some point in their life. This upcoming TEDxGöteborg Salon event will focus on anxieties related to personal finances and how they impact our mental health. A stellar panel with Shoka Åhrman (Author & Financial Expert), Glen Bryan (Chartered Clinical Psychologist) and moderated by Chris Doyle (Market Activator & Speaker), will tackle the challenges and solutions for personal finance-related anxiety. From dealing with the stress of keeping up with new financial models, to coping with overwhelming daily demands, this timely event will deeply explore the game-changing world of financial anxiety management.
17.30 - Doors open
18.00 - Program begins
20.00 - Program ends & TEDx mingling begins
20.30 - Wrap-up
NOTE: This is a free event for all to attend with limited seating. If you sign up for a ticket and are unable to attend, PLEASE notify us so that your ticket can be reassigned to our waiting list. If we're not notified or you do not cancel your ticket (via the confirmation email you've received) we will invoice 200 SEK/ticket.