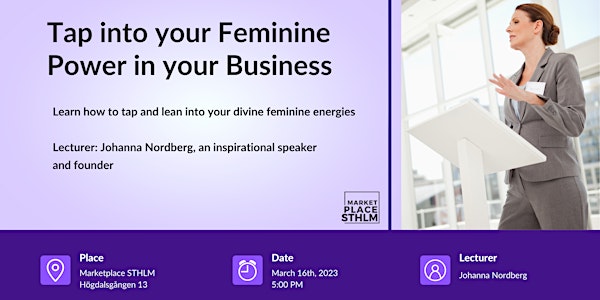 Tap into your Feminine Power in your Business
This workshop will teach you the benefits of feminine energy and how to balance it with the masculine energy for a more successful business.
When and where
Location
Marketplace STHLM i Högdalen Centrum 13 Högdalsgången 124 54 Enskede-Årsta-Vantör Sweden
About this event
Tap into your Feminine Power!
"For real change, we need feminine energy in the management of the world." - Isabel Allende
Businesses typically have and show more of the masculine energy which is regarded as being more powerful and efficient among many individuals. While the masculine energy does indeed serve the business with its special benefits, a balance is required between the feminine and masculine energies to provide more synergies in a given business and to fill the gaps in both energies.
The feminine power is about being, grounded, listening and taking actions with more of intuition and creativity. We will take actions and learn how stay in the power for success in your business.
In this workshop, you'll learn how to tap and lean into your divine feminine energies and work more in empathic, creative, collaborating and receptive ways. This workshop is not about replacing the masculine energy with feminine, but rather finding the balance between the two, as both serve different yet compatible and vital powers to successful businesses.
Topics covered:
Learn about your feminine energy and how to tap into it
Learn how to use the benefits of your feminine energy
Learn how to provide a balance between masculine and feminine energies
You will do meditation and chakra balancing
Lecturer and students will get exercises to work with
Marketplace have teamed up with Johanna Nordberg. Johanna is an inspirational speaker and founder. Her mission is to help as many women in the world thrive in their business and personal life, paving the way for women to succeed.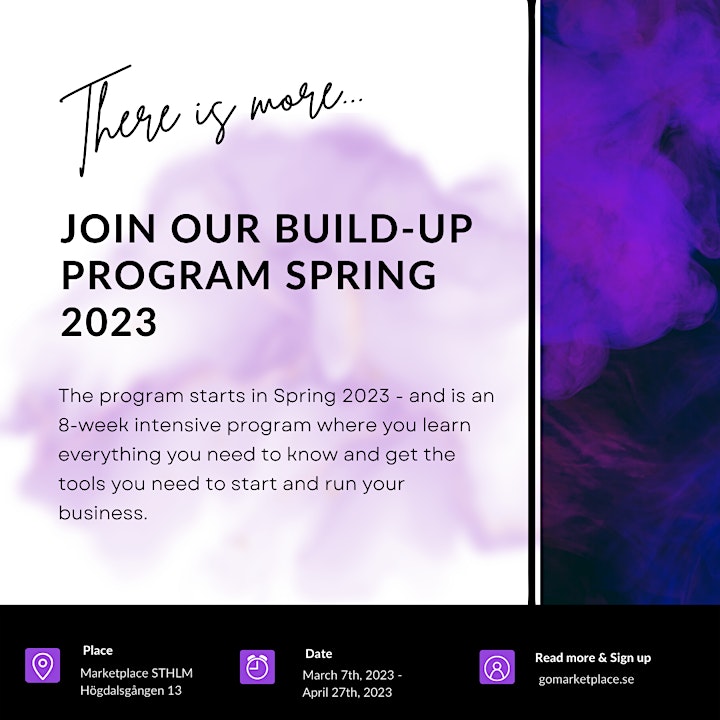 Want to learn more? Yes, you can!
This course is a part of our 8 weeks entrepreneurship program, called the Build up program. The program is designed for entrepreneurs who are ready to take their business to the next level. It covers all aspects of accelerating business.
From building a team to consulting to explore funding opportunities - either through our partners or other options. The goal is to help new entrepreneurs structure their ideas, do the right industry research, understand their market and build a winning business plan - this with the help of our strong mentors, theory studies and during the program's meetings you get to take part in individual business development, expert help, lectures and co-working .
You will have a complete pitch package to use for investors, banks and with our partners when you have completed the program.
The program runs for 8 weeks between 7/3 – 27/4 with 3-4 hour meetings per week on Tuesdays and Thursday afternoons.