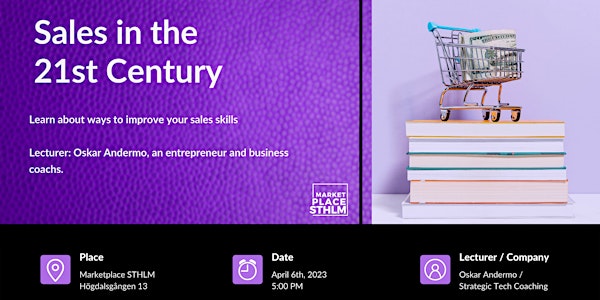 Sales in the 21st Century
This workshop will give you the opportunity to learn about and improve the top skill for any entrepreneur, which is sales!
When and where
Location
Marketplace STHLM i Högdalen Centrum 13 Högdalsgången 124 54 Enskede-Årsta-Vantör Sweden
About this event
The top skill for any entrepreneur - sales!
"Selling is never about convincing. It is always about helping." Mark Cuban
Selling is many times misunderstood. Selling is not telling... sales is about building rapport, understanding needs and matching what you have with the potential client. In this workshop you get an introduction to sales and some very powerful tactics that have the potential of helping you for the rest of your life.
Workshop outcome:
understand the difference between telling and selling.
Learn the basics in a consultative selling approach.
Improve your sales skills.
Learn how to get and convert more clients.
Marketplace STHLM have teamed up with business coach Oskar Andermo. Oskar has more than 20 years experience in sales. He has been an entrepreneur for more than 10 years involved in many different projects. For example a team building for the team of the Crown Prince in Dubai Sheikh Hamdan bin Mohammed bin Rashid Al Maktoum, doing massive events for King (the company behind Candy Crush) and a skiing competition in one of the hottest places on earth. Oskar loves learning and holds many certifications in various models of coaching, peak performance, positive psychology and mental training. He has been coaching and training 1000s of leaders and entrepreneurs in the Middle East and Sweden.
Here you can learn more about Oskar:
More questions? Contact Oskar via oskar@strategictechcoaching.com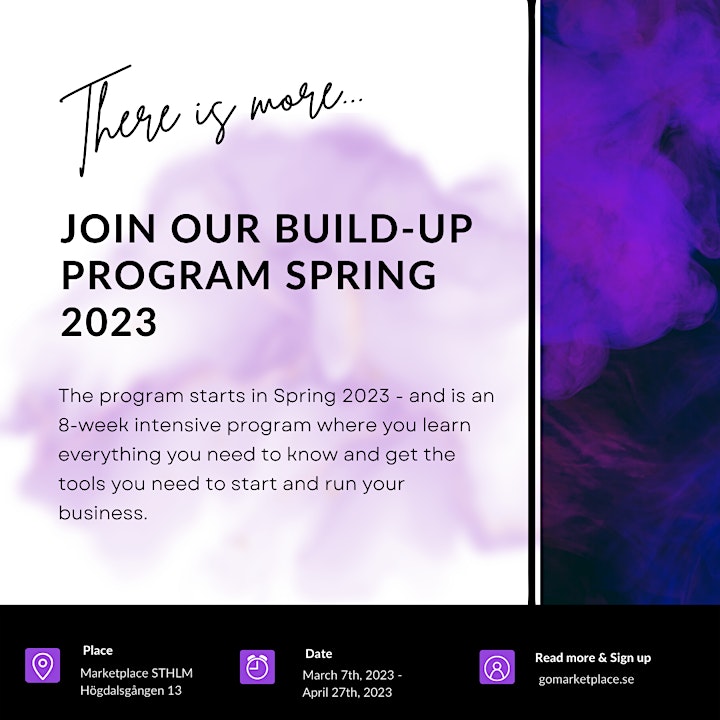 Want to learn more? Yes, you can!
This course is a part of our 8 weeks entrepreneurship program, called the Build up program. The program is designed for entrepreneurs who are ready to take their business to the next level. It covers all aspects of accelerating business.
From building a team to consulting to explore funding opportunities - either through our partners or other options. The goal is to help new entrepreneurs structure their ideas, do the right industry research, understand their market and build a winning business plan - this with the help of our strong mentors, theory studies and during the program's meetings you get to take part in individual business development, expert help, lectures and co-working .
You will have a complete pitch package to use for investors, banks and with our partners when you have completed the program.
The program runs for 8 weeks between 7/3 – 27/4 with 3-4 hour meetings per week on Tuesdays and Thursday afternoons.