Post tobacco – Recreational nicotine and society
About this event
There is a fast development of new tobacco-free nicotine products. And it changes everything. From strategies for tobacco control to harm reduction policy, from European to national legislation and the prospects of both traditional big tobacco and new innovative start ups.
If governments are to make public health benefits out of this development and companies to turn it into business opportunities they need to understand this new landscape.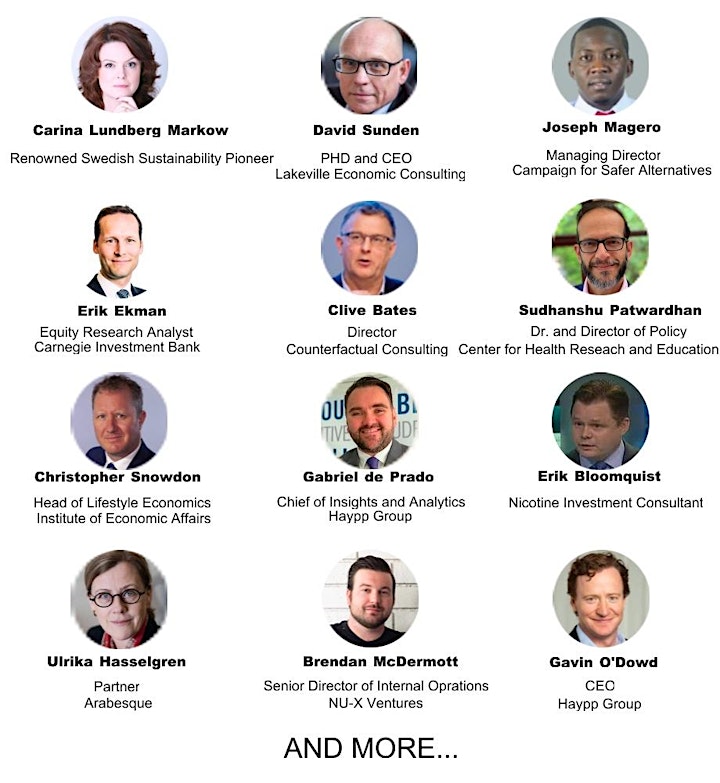 In Stockholm from lunch the 11th of October to lunch the 12th of October scientists, regulators and business will meet to discuss the future of recreational nicotine.
The conference will focus on four different themes:
* Market development and trends
* Regulatory development
* Health implications
* Investment and sustainability
The conference will be held in English, it will be a physical conference but with the possibility to follow it online.
Visit www.ephi.se/event-efter-tobak for more details.

PROGRAM
Day One: Monday the 11th October
12:00-13:00 Registration and Lunch
13:00-13:10 Welcome/Introductions, Christofer Fjellner – Managing Director EPHI
13:10-13:30 Science Based Policy or Policy Based Science?, Moderator Christofer Fjellner, Managing Director EPHI, Clive Bates – Director Counterfactual Consulting.
13:30-14:30 Moving from Tobacco to Nicotine – A health threat or opportunity?, Moderator, Christine Mhundwa, Brussels Times, David Sunden, PHD economics, Sudhanshu Patwardhan, MD and Director of Policy for the Centre for Health Research and Education, Joseph Magero, Managing Director Campaign for Safer Alternatives
14:30-15:00 Coffee Break
15:00-16:15 Can Nicotine be a Sustainable Investment?, Moderator Ulrika Hasselgren, Partner Arabesque, Gavin O'Dowd, CEO Haypp Group, Erik Eliasson, Head of Responsible Investment Danske Bank, Carina Lundberg Markow, Renowned Swedish Sustainability Pioneer, Malin Lindfors Speace, Ethos International.
16:15-17:00 Risk and opportunity within the nicotine market, Moderator Henrik von Sydow, Head of Strategic Foresight Carnegie, , Niklas Ekman, Senior Equity Research Analyst Carnegie, Erik Bloomquist, Global Nicotine and Tobacco Investment Consultant.
17:00 Drinks
Day Two: Tuesday the 12th October
09:00-10:00 Consumers and Products – A look into the future, Moderator Christine Mhundwa, Brussels Times, Brendan McDermott, Senior Director of Internal Operations Nu-X Ventures, Gabriel de Prado, Chief of Insights and Analytics Haypp Group,
10:00-10:15 Coffee Break
10:15 -11:30 How should Nicotine be Regulated? Moderator, Christine Mhundwa, Brussels Times, Christopher Snowdon, Head of Lifestyle Economics IEA, Christofer Fjellner, former MEP and Managing Director EPHI, Cecilia Kindstrand, Head of European Affairs Swedish Match, Henrik Broström, Head of Regulatory Head of Engagement New Categories Nicoventures, Joar Forssell, Member of the Swedish Parliament.
11:30-12:30 Lunch and Live POD with Hälsa för Ohälsosamma, with members of the Member of the Swedish Parliaments Social Committee