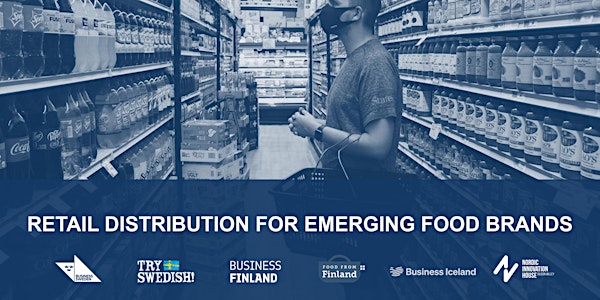 Nordic Food: Retail Distribution for Emerging Food Brands
Learn about how to enter the US retail market as an emerging food brand together with Try Swedish, Business Finland and Business Iceland!
About this event
About the event
The US Food Retail Market (supermarkets & grocery stores) in the U.S. was estimated at 765 billion USD in 2022. The market has grown at a rate of 2.7% annually the last 5 years. Do you want to find out more about the market opportunity and how to strategically access it as a Nordic brand? Join us for a conversation with Pod Foods on how to enter the US food retail market. Pod Foods is a tech-enabled grocery supply chain designed for emerging brands, helping them access the US food retail market.
This webinar will cover:
US food retail market size and opportunities
Distribution channels
Trends in food retail & the US consumer
After the webinar companies will be able to apply for a 30 minutes coaching session. If you are interested, please submit your product information here.
The webinar takes place at 14:00 (ICE) / 16:00 (SWE) / 17:00 (FIN).
About Sarah Lanphier
Sarah Lanphier, Director Vendor Success at Pod Foods, started her career in college as an entrepreneur where she founded Nuts About Granola, LLC in conjunction with her business classes. After ten years of running Nuts About Granola, Sarah transitioned into the co-manufacturing space where she served as Director of Business Development for Wolfgang Confectioners, helping emerging brands and major CPG companies launch new products. Sarah has recently transitioned to her new role at Pod Foods, returning to her roots and helping young brands navigate the US food distribution system to achieve their goals.
About Dan Rabens
Dan Rabens is Director of Growth at Pod Foods, and he spent the past 10+ years of his career working in sales & marketing at Fortune 500 companies and venture-backed startups. Dan began his post-MBA career at Taco Bell Corp. and Warner Bros., where he worked on the strategic development of new products, and the successful execution of marketing initiatives. Since then, Dan has applied his skill-set at venture-backed, food tech startups in the San Francisco Bay Area.
About Business Sweden
Business Sweden is commissioned by the Government and the Swedish industry to help Swedish companies grow global sales and international companies invest and expand in Sweden. Business Sweden has more than 40 years' experience in supporting Swedish companies in the Americas and guiding American companies to find investment opportunities in Sweden.
For questions, please contact jessica.connelly@business-sweden.se
About Business Finland
Business Finland is the Finnish government organization for innovation funding and trade, travel and investment promotion, headquartered in Helsinki. Business Finland's 600 experts work in 40 offices globally and in 16 regional offices around Finland.
For further questions, please contact elina.fahlgren@businessfinland.fi
About Business Iceland
Business Iceland is a public-private partnership established to improve the competitiveness of Icelandic companies in foreign markets and to stimulate economic growth through increased export and FDI. In North America Business Iceland has a close cooperation with the Consulate General in New York and the Embassies of Iceland in Washington and Ottawa.
For further questions, please contact kristinnb@islandsstofa.is
*By filling out this form you agree to receive email communications from Business Finland, Business Sweden or Business Iceland regarding this webinar series and other food opportunities in the U.S. You can opt out at any time.
Hope you can join us!