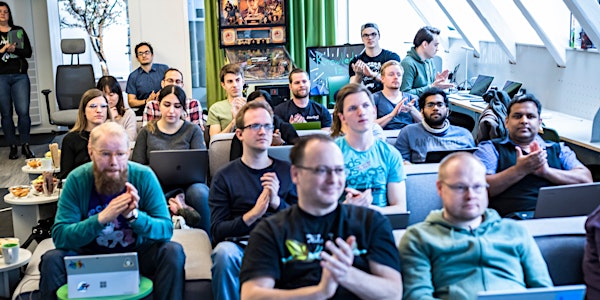 Knowledge AW: JS Edition
Fancy learning a few things about JS whilst hanging out with new friends? Come and join us!
Date and time
Wed, 7 Jun 2023 17:00 - 21:00 CEST
Location
tretton37 Lund Klostergatan 2 222 22 Lund Sweden
About this event
Knowledge and learning really are in our DNA - it's who we are and what we do. On June 7th, two of our fantastic colleagues - Daria and Simon - will be hosting a couple of JS inspired talks at the office as part of a good old fashioned AW. Food, drinks, ping pong, pinball, chit chat and general merriment are on the agenda, so sign up (free of course) and join us.
Daria Sharshakova will talk about "CommonJS vs ES Modules". She will discuss the differences between these two ways of managing JavaScript code and build a hybrid NPM module that works for ESM and CommonJS consumers. Then we have Simon Tenggren who will talk about "Functional Programming in JS" where he will discuss general concepts, tips and tricks, and common pitfalls.
While they nourish our brains with delicious knowledge, we'll make sure to nourish your bodies with food and refreshments. When signing up - let us know of any allergies or dietary requirements.
Our events are popular, so please do let us know if you're unable to make it so we can free up your ticket for someone else. Have a great day and see you on the 7th 🌟
About the organiser
We are a knowledge-based IT consultancy company driven by technical excellence and thought leadership that prides itself in creating high-quality software deliveries.
We love to share knowledge and therefore we have many events all across Sweden and in Slovenia. We regularly organise various types of events with the purpose to share knowledge, have fun, and connect with like-minded individuals.
Hope to meet you at our next event!