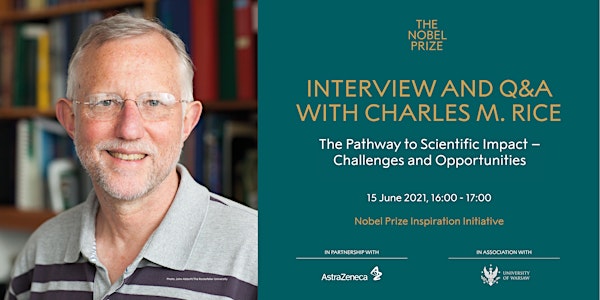 Interview and Q&A with Charles M. Rice
Gain an insight into Charles Rice's life as a scientist and his journey towards the Nobel Prize.
About this event
Charles Rice received the 2020 Nobel Prize in Physiology or Medicine for discovering the Hepatitis C virus.
The digital event on 15 June will explore the topic of "The Pathway to Scientific Impact – Challenges and Opportunities". Rice will share his thoughts on what scientific impact means, and how we can improve our chance of achieving this. His perspective will be personal, and he will share stories from his journey to the Nobel Prize. What led him to his ground-breaking discovery? How did he keep his motivation?
The conversation will be free-flowing, and you will have the chance to submit questions.
This online event is part of the Nobel Prize Inspiration Initiative (NPII), a global programme designed to help Nobel Laureates share their inspirational stories and insights. It is held in partnership with AstraZeneca. It is free and open to all, and we particularly encourage science students and early-career researchers in Poland to attend.
Data protection
Nobel Prize Outreach AB processes your personal data in connection to your participation in the Nobel Prize Inspiration Initiative. The data is processed in accordance with the General Data Protection Regulation, based on a legitimate interest assessment to enable your participation and evaluate the event. Only aggregate data are kept. Nobel Prze Outreach AB is the data controller.
You can read more about how we process personal data and find contact information if you have any questions at nobelprize.org.