Location
Marketplace STHLM i Högdalen Centrum
13 Högdalsgången
124 54 Enskede-Årsta-Vantör
Sweden
In this workshop you will learn about the fundamentals of branding, dysfunctional beliefs about branding, where to start and more.
About this event
Introduction to the workshop
Branding and its benefits seem to be the talk of the business town. Maybe, these benefits sound familiar
"It will give you a competitive advantage"
"It will give you sales"
"A great Brand is everything"
As an entrepreneur or small business owner is hard to work on your own brand because of your to-do and priority lists. It's a never-ending one, right? Who has room to work on Branding? Apparently, no one. Who has time for this luxury? However, What if I tell you that you can do it as part of your business daily routine?
Yes. In this practical and straightforward workshop, we will dive into the fundamentals of branding, revealing how entrepreneurs and small business owners can cultivate a strong and memorable identity for their businesses on a daily basis format. Take a look at what we are covering
Topics covered:
What's Branding?
Dysfunctional beliefs about Branding
Where do I start? My BrandAudit
Getting to Know the Brand the Change Methodology.
Creating a basic Branding 1-page plan.
Benefits
No matter your niche or the services you provide, branding is a critical part of your business strategy so cultivating a positive and engaging brand can mean the difference for entrepreneurs, startups, or small businesses that are searching for a practical path to designing a core brand identity that will attract customers, build positive perception, and set you up for long-term success.
Marketplace STHLM has teamed up with Patricia Alvarado. Patricia Alvarado is a vibrant social entrepreneur with 2 ventures on her hands: Powered by Women and Move with Patrcia where she combines her 3 wildest passions: foreign-born women, entrepreneurship, and dance as a training form.
SheI started Powered by Women to support foreign-born entrepreneurs, especially women, to succeed in Sweden. Our purpose is to eradicate poverty among international female talent and actively promote equality where women define their terms and make progress both personally, professionally, and economically. "I know how hard it is to find your place when you move to a new country. I have done it twice, once from Venezuela to Mexico and the second time to Sweden in 2013".
Since 2015, Patricia has immersed herself in her entrepreneurial development, where she has joined different incubator programs. Over the years, she has studied branding, and design thinking not only for businesses but for personal purposes.Certified trainer in the Brand the Change methodology with extensive experience in marketing & communication for startups, SMEs, and nonprofit organizations in Venezuela, Mexico, and Sweden. Currently, Patricia combines all of her valuable knowledge and experience to empower others in building their brands. She introduces methodologies and tools with a comprehensive and affordable approach to ensure her female founders have the key to creating a lucrative and long-lasting business.When she doesn't work with her business ventures, she loves to spend time with her family and friends, to discover Stockholm, and works voluntarily as part of the Executive Board of I love Venezuela Sweden.
Interesting Resources to check for the Workshop:
https://www.worldbank.org/en/topic/gender/publication/female-entrepreneurship-resourcepoint-module-2-how-to-make-change
https://www.nordicinnovation.org/2020/female-entrepreneurship-nordics-2020
https://audaces.com/en/female-entrepreneurship/#What_is_female_entrepreneurship
More questions? Contact Patricia via patricialvarados@gmail.com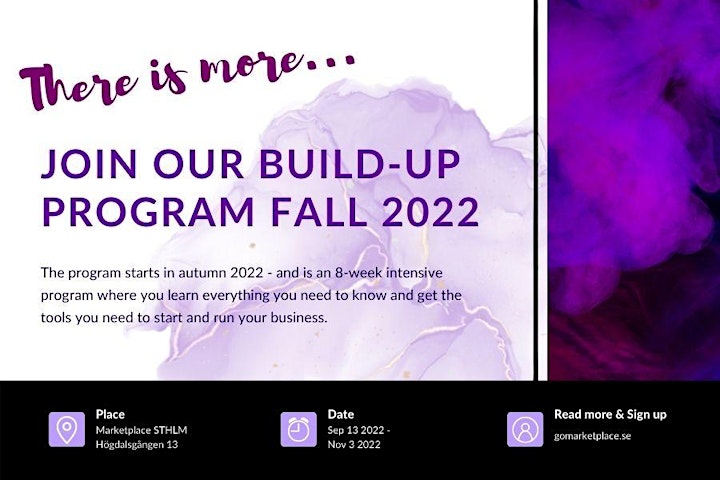 Want to learn more? Yes, you can!
This course is a part of our 8 weeks entrepreneurship program, called the Build up program. The program is designed for entrepreneurs who are ready to take their business to the next level. It covers all aspects of accelerating business.
From building a team to consulting to explore funding opportunities - either through our partners or other options. The goal is to help new entrepreneurs structure their ideas, do the right industry research, understand their market and build a winning business plan - this with the help of our strong mentors, theory studies and during the program's meetings you get to take part in individual business development, expert help, lectures and co-working .
You will have a complete pitch package to use for investors, banks and with our partners when you have completed the program.
The program runs for 8 weeks between 13/9 – 3/11 with 3-4 hour meetings per week on Tuesdays and Thursday afternoons.