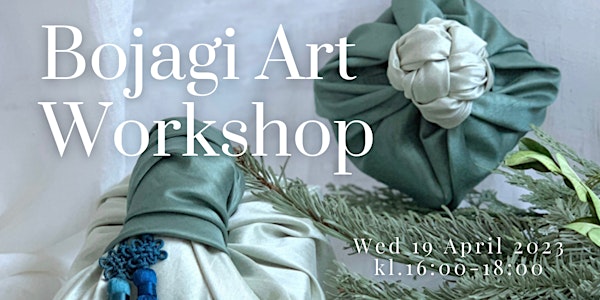 [19 APR] Bojagi Art Workshop
A great opportunity to experience Korean traditional Art Workshop with Bojagi. You will learn 4 wrapping techniques with Korean Bojagi.
By Koreanskt Kulturcenter [KKC]
Date and time
Wednesday, April 19 · 4 - 6pm CEST
Location
Koreanskt Kulturcenter 23 Kungsholmsgatan 112 27 Kungsholmen Sweden
About this event
Bojagi Art Workshop aims to deliver a cultural experience in a fun way with various Bojagi fabrics and techniques that can be applied to your everyday life.
● Instructor : Lia Kim
● Place : Klassrum at Koreanskt Kulturcenter (Kungsholmsgatan 23, 112 27 Stockholm)
● Date : 19 April 2023, WED kl.16-18 (2 hours)
● Duration : 2 hours
● Language : English
● Course Type : One Day Class (Workshop)
● Course fee : free (NOTE_However, you may get charged for no-shows and late cancellations)
● Ingredient fee : free
* All ages welcome, children under 12 should be accompanied by an adult
Are you looking for an opportunity to feel and experience Korean traditional culture with a contemporary touch? Come join us Wednesday April 19 for Korean Bojagi Art. In this workshop, participants will not only learn the history and culture of Korean Bojagi, but also get hands-on and learn 4 gift-wrapping techniques with Bojagi. Time to make your gifts more personal and elegant with the beautiful Bojagi. Register the Bojagi Art Workshop now!
[Introduction on Bojagi]
Bojagi is referred to as traditional Korean wrapping cloth. This traditional Korean cloth is made from a variety of materials, Bojagi has many 'uses', such as wrapping, storing and carrying things to embrace daily life. Traditionally, Korean folk believe that keeping something wrapped protects good luck/blessings, so it is widely used in gift wrapping, weddings, and religious purposes. This beautiful Bojagi is a durable, eco-friendly material that may be used repeatedly.
About the organizer
Welcome to Koreankst Kulturcenter!
This is the Booking page for Cultural Courses provided by the Koreankst Kulturcenter.