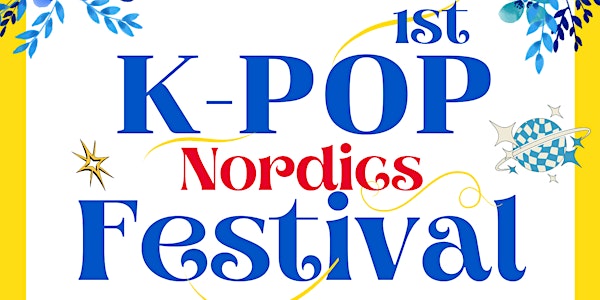 [10 JUN] K-POP Nordics Festival _ GUEST TICKETS
Guest tickets for K-POP Nordics Festival. First Come First Served. GUEST Tickets Sales on 15th MAY
By Koreanskt Kulturcenter [KKC]
Date and time
Saturday, June 10 · 4 - 6pm CEST
Location
Oscar Theater 63 Kungsgatan 111 22 Norrmalm Sweden
About this event
Who's the BEST K-pop dancer/singer(s) in the Nordics? Come and Join the K-POP Nordics Festival!
Koreanskt Kulturcenter (Korean Cultural Center in Sweden) is thrilled to inform all K-pop enthusiasts in the Nordics that K-POP Nordics Festival will be held in Stockholm on 10th June 2023 at Oscarsteatern (Kungsgatan 66, 111 22, Stockholm). This year, K-pop cover dancers/singers will come to compete from the Nordics - Sweden, Denmark, Finland, Norway, and Iceland.
Join us to find who will win the BEST Title of K-POP dancer/singer(s) in the Nordics!
ㅇ Time/Date: Saturday, 10th June 2023 kl. 16:00 - 18:00
ㅇ Venue: Oscarsteatern (Kungsgatan 66, 111 22, Stockholm)
*The venue is strictly a peanut-free and pet-free area.
ㅇAccesibility The event is wheelchair accessible through the door on the far right side. When you enter the arena, there is a lift adjacent to the left side of the ground floor (Parkket). The stage can be seen from the ground floor where the entrance is, accessible all the way for wheelchair users. We will have staff showing the way. Only 4 seats for wheelchairs are available and your visit must be informed to Koreanskt Kulturcenter in advance. * (should be informed to hhjo@kkultur.org)
ㅇContact
All inquiries related to the event should be addressed to hhjo@kkultur.org
[ General Provisions]
ㅇ Publicity, promotion and communication of the Contest, and image rights
The participants know and expressly accept that, during the development of the contest, their performance may be the subject of images and videos, and their image (voice included) may appear in photographs or audiovisual recordings. Both Koreanskt Kulturcenter and the supporting partners may make use of the images or videos of the development of the contest and the performance of the participants for promotional purposes - publication of brochures, catalogs, or compilation publications in the media - expressly excluding commercial activities. The participants, therefore, authorize the Koreanskt Kulturcenter to take photographs and videos during the event, without receiving any financial compensation.
Koreanskt Kulturcenter will disseminate information and images of the contest through its website, its social networks and/or the media it deems appropriate. The supporting partners will also disseminate information and images related to the event on its website and on its social networks.
About the organizer
Welcome to Koreankst Kulturcenter!
This is the Booking page for Cultural Courses provided by the Koreankst Kulturcenter.